'Young Frankenstein' Opens in Lexington Park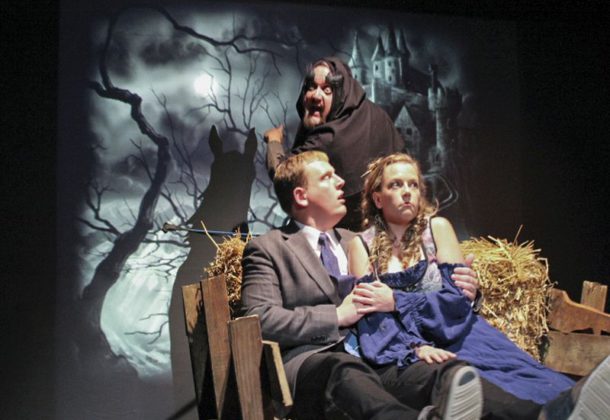 Igor, played by Paul Rose, escorts Dr. Frederick Frankenstein (Jonathan Berry) and his newly hired lab assistant Inga (Kristin Kauffman) in a hayride to the castle.
Enjoy an early Halloween treat with The Newtowne Players' 'Young Frankenstein'
Opening Friday Sept. 29, 2017 at Three Notch Theatre
Treat yourself this Halloween season to a show that shines more than scares. "Young Frankenstein" runs Sept. 29 through Oct. 15 at Three Notch Theatre, 21744 S Coral Dr, Lexington Park, MD 20653. Click for tickets. 
This show has an R rating and is not appropriate for children.
Here's the story, by Emily Funderburk
Velcome to Mel Brooks' Transylvania, where the men have shifting humpbacks, (some of) the women evoke spooked whinnies from horses near and far, and the basements are full of suitably mysterious lab equipment.
Frederick Frankenstein (Jonathan Berry), dean of anatomy at Johns, Miriam and Anthony Hopkins School of Medicine in New York, travels across the globe to Transylvania after learning he has inherited his grandfather's castle. While he's initially not too big on the family name or its infamous history — he pronounces his last name "Fronkensteen" to help distinguish himself — he soon comes around after having a dream in the castle about his family. He decides to bring back to life a large corpse with the brain of a scholar, using his mad scientist grandfather's notebooks on how to reanimate the dead.
To help him in his quest, Frederick employs Igor (pronounced, fittingly, as Eye-gore), played in appropriately lumbering fashion by Paul Rose, and Inga (Kristin Kauffman), the beguiling, yodeling lab assistant who opens Frederick's eyes to the deeper joys of, um, science with high-spirited enthusiasm and a voice to match. The dark and formidable Frau Blucher (Stacy Oosterink) rounds out the castle lineup. She's full of secrets, too, until she gleefully reveals one about her salacious relationship with Frederick's grandfather.
Unfortunately, plans go awry when Igor procures an "Abbie Normal" brain, instead of the intellectual one Frederick wanted, and the grunting, hulking Monster (Christopher Joyce), after being brought to life successfully, escapes the castle.
The local villagers are, understandably, upset. Leading the charge against Frederick and the Monster is the sternly serious Inspector Hans Kemp (Jeff Maher), who takes Frederick to the gallows after believing the Monster has killed Frederick's frigid fiancé, Elizabeth (Sophie Campbell). Elizabeth, who has followed Frederick all the way from New York, gets caught in the blossoming love triangle between Frederick and Inga, and Campbell pouts her way expertly through Elizabeth's distress.
Does Frederick survive? What will happen to the Monster? And why doesn't Igor ever notice his hump? You'll find out during this comedic romp that is fairly close to the 1974 film of the same name. Standouts include Harold the Hermit's (Mike Sokoloff) bumbling encounter with the Monster and, later, the famous, glittering Irving Berlin song, "Puttin' on the Ritz," featuring tap dancing, top hats and Joyce's hilarious, deadpan vocalizations.
"Young Frankenstein" runs Sept. 29 through Oct. 15 at Three Notch Theatre in Lexington Park. Directed by Dawn Weber, with Musical Direction by Diane Trautman. For tickets visit the site linked above or phone 301-737-5447 make a reservation. If you call please leave a message with your name, number of tickets, the date of performance, and your phone number.
Shows begin at 8 pm Thursdays, Fridays, and Saturdays and at 3:30 pm Sundays. The box office at the theatre is open one hour prior to showtime. When you arrive at the theatre, please show your ticket confirmation at the box office. Online ticket sales close one hour prior to showtime.
Adult general admission $18.00
Seniors (65+) / Students / Military $15.00
Children (12 and under) $13.00
​Thursdays only $13.00
This show has an R rating and is not appropriate for children.
For more about Lexington Park, visit the St. Mary's County Community Development Corporation's website. The CDC is located at 46940 South Shangri-La Drive, Suite 7; Lexington Park, MD 20653; (301) 863-7700