Guitar Festival Features Workshop, Concert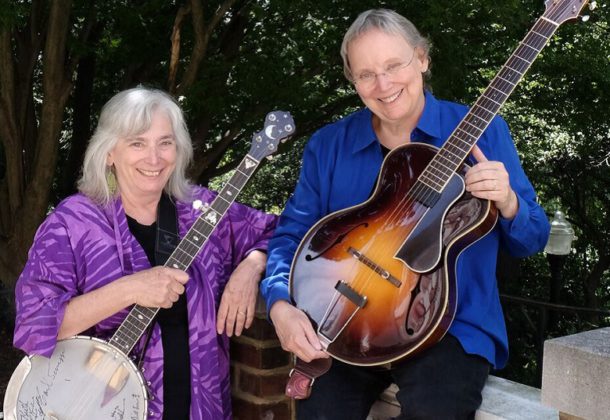 Grammy Award-winning musicians Cathy Fink and Marcy Marxer will headline the fifth annual Guitar Festival by Power Jam Music Alliance on Saturday, March 11, 2017, in Callaway. Guitar lovers will unite for an afternoon guitar workshop and an evening concert and art show.
Ms. Fink and Ms. Marxer have earned two Grammy Awards and an additional 11 Grammy nominations. They produced and performed on Tom Paxton's Grammy-nominated UK CDs and tours. "Cathy and Marcy are at home in a dozen musical styles. They swing you, jazz you, and old timey you till you just give up and bliss out," Mr. Paxton said.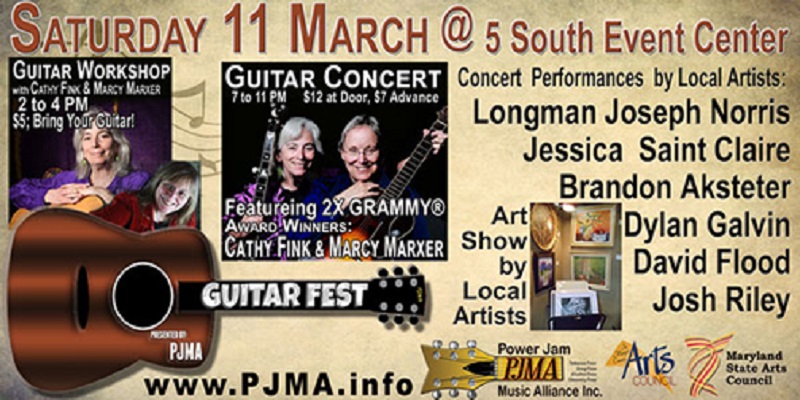 The duo's superb harmonies are backed by instrumental virtuosity on the acoustic and electric guitar, five-string banjo, mandolin, cello banjo, ukulele, percussion, and many other instruments.
Billboard Magazine summed it up well for what Ms. Fink and Ms. Marxer have in store for PJMA's Guitar Fest:  "As close to flawless folk/bluegrass as it gets."
There also will be Guitar Festival performances by local guitar artists Longman Joseph Norris and Dylan Galvin. Opening acts include Jessica St. Claire, David Flood, Josh Riley, and Brandon Aksteter.
Mr. Norris will share his folk music, historic songs, and storytelling. He is a St. Mary's native, with family roots dating back 370 years to St. Mary's City. He is known in Southern Maryland as a musician and singer, and his performances feature storytelling about the people and history of Southern Maryland. His stories recall a legendary ghost ship on the Wicomico River, experiences of Civil War soldiers, the Chesapeake Bay region and its people, the lives of watermen and farmers, and as a tribute to his Cherokee roots, the American Indian. Norris has released three CDs, one with his twin brother David, the others solos, including his most recent "Mariner's Compass."
Mr. Galvin is Berklee College of Music grad with a degree in songwriting and performing. He has worked with Paul Simon, John Mayer, and Joe Satriani, played from LA to Boston and Key West and has 15 years of experience performing professionally.
The art show will display paintings and other art works by local artists.
Come with your guitar from 2 to 4 pm for the guitar workshop with Ms. Fink and Ms. Marxer and stay around for the concert and art show from 7 to 11 pm. All ages are welcome.
The Guitar Festival will be held at the 5 South Event Center at 21030 Point Lookout Road, Callaway, Maryland 20620.
For further information, click here or call 240-925-8659.
PJMA was started in St. Mary's County in June 2003 as a franchise of the not-for-profit corporation, My Brother's Place in Waldorf. In 2009, it was incorporated in Maryland a separate not-for-profit corporation.
The festival is sponsored by the Maryland State Arts Council and the St. Mary's County Arts Council.
For more about Lexington Park, visit the St. Mary's County Community Development Corporation's Leader member page.
46940 South Shangri-La Drive, Suite 7; Lexington Park, MD 20653;
(301) 863-7700