St. Mary's County Community Development Corp.
Created in 1985, the St. Mary's County Community Development Corporation (CDC) is a nonprofit agency promoting public and private investment in St. Mary's County communities. The Corporation seeks to develop community infrastructure projects designed to revitalize and boost investment in commercial and residential neighborhoods.
In Lexington Park, the CDC is seeking to implement infrastructure improvements suggested in the 2016 Lexington Park Development District Master Plan developed by St. Mary's County Planning Commission and adopted by the St. Mary's County Commissioners.
In fiscal year 2019 the board continues its work extending Rogers Drive to Willows Road opening a second access into the Colony Square neighborhood. Increasing the ease of patrol and through traffic has proven a successful crime deterrent. The road is scheduled to be completed in August 2019.
In early summer 2019, a second major mural is planned for Bank Square Building where the CDC officers are located at 46940 S. Shangri-La Drive, Lexington Park, MD 20653.
The first mural in Lexington Park w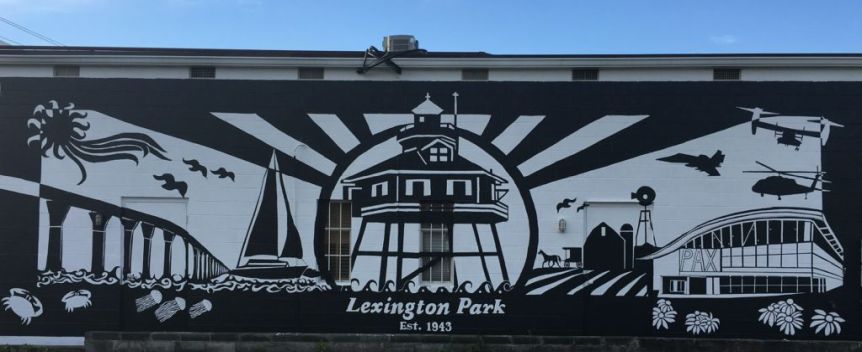 as the result of a CDC sponsored competition supported by grants from the St. Mary's County Arts Council and the Maryland Heritage Areas Consortium. Lyn Wescoe won the design competition. The mural was completed under the artistic leadership of Roz Racanello, Arts Program Manager with the St. Mary's Community Development Corp. with help from St. Mary's College of Maryland's community art class taught by Carrie Patterson.
The mural was installed in coordination with the first of two Cherry Blossom Festivals which the CDC sponsored to bring  community attention to a blighted, public-owned parcel designated for economic development in Lexington Park.  CDC's engagement of the community in designing an ArtsPark on the property  led county government to include the property in its parkland inventory.
St. Mary's CDC partnered with Conifer Realty LLC  and won Maryland Tax Credits to  develop Patuxent Cove, a $22 million market- and affordable-rate apartment complex on Pegg Road in Lexington Park, less than a mile from Gate 1 of NAS Patuxent River.
Although focused on Lexington Park, MD, St. Mary's CDC is open to revitalization projects throughout St. Mary's County.
The Board of the Corporation is composed of representatives of business, community, and service organizations.
 Mark Pinekenstein, Compass Systems, Inc., Chairman
Carl Franzen, Franzen Realty, Vice-Chariman
Quincy Williams, Cedar Point Federal Credit Union, Secretary
Margaret Sawyer, Old Line Bank, Treasurer
Mark Dillow, Dean Lumber
Phil Riehl, State Farm Insurance,
Gerald Fair, Fair Enterprises
Joan Gelrud, Kaiser Permanente
Helen Daugherty, St. Mary's College of Maryland
Pat Mudd, Mudd Engineering
Ex-Officio Members
Charles Wood, St. Mary's County Dept. of Social Services
Sabrina Hecht, NAS Patuxent River
Dennis Nicholson, St. Mary's County Housing Authority
Harry "Lanny" Lancaster, Three Oaks Center
Viki Volk, President/CEO
Stories: