Making Stress a Superpower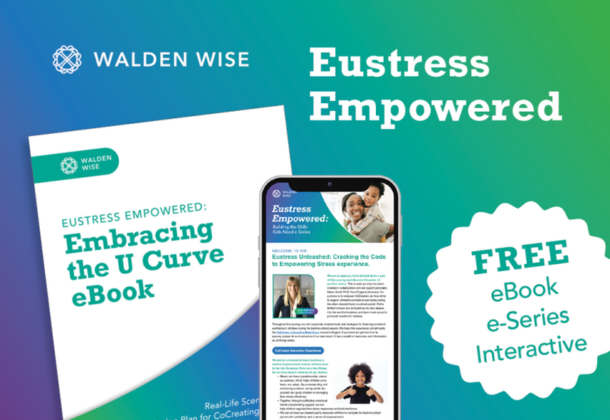 September is here, and back-to-school season is upon us. What better time to equip our kids with the tools they need to conquer stress and emerge stronger? Walden Wise has unveiled Eustress Empowered, our most groundbreaking resource yet, says CEO Kathleen O'Brien. 
Walden Wise develops free, online resources to help parents, teachers, mentors, grandparents, or coaches help the kids in their lives. WaldenWise calls those helping kids, CoCreators.
Learning how to make stress work for us, Dr. O'Brien says, won't just benefit the kids in our lives. As CoCreator — whether parents, teachers, mentors, grandparents, or coaches—our own relationship with stress significantly impacts the emotional health of the children we care for.
We suspect you'll find plenty of useful insights for yourself, too. Don't miss the adult scenario included in the Eustress Empowered eSeries.
The free, six-part email series, Eustress Empowered: From Stress to Strength Interactive, offers actionable advice, activities, and conversation starters for you and the kids.
Why Now?
Back-to-school is often a time of excitement, but also a period when students of all ages face stress head-on. It's the ideal moment to introduce children to the transformational concept of Eustress — positive stress that fuels growth and learning.
Introducing Eustress Empowered: From Stress to Strength Interactive. 
Created in collaboration with Dr. Karen Smith, Scholar CoCreator from Rutgers University, this all-encompassing, interactive is jam-packed with strategies, insights, and tools designed specifically to make stress work FOR our kids, not against them. Get ready to dive in.
Exclusive eBook: Download Eustress Empowered: Embracing the U Curve and get a comprehensive deep dive into redefining stress for children. And for yourself.
What's Next?
Click here to embark on this transformative journey with us. Together, as CoCreators, we're not just thinking about creating emotional health with and for kids – we're taking practical action. Dive into this comprehensive, interactive resource and join us in redefining stress as a powerful force for good.
At Walden Wise we call ourselves CoCreators. What kind of CoCreator are you? Let us know: Visit us at WaldenWise.org, join us on Facebook and Linked-In, follow us on Instagram. Visit our Leader Member page.