Knowledge Boxing Grabs Two Wins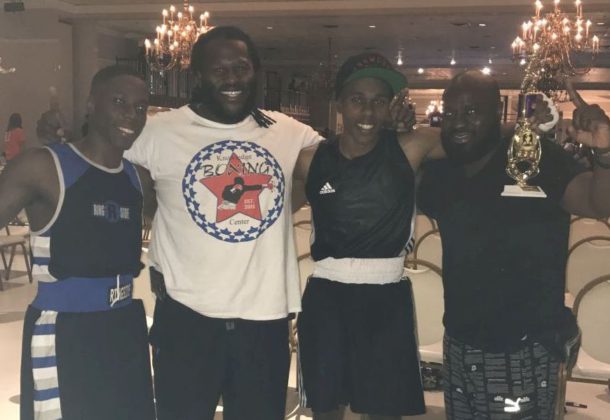 Devante Alexander, Coach Daryl Hinmon, Antonio Brothers, Coach John Richardson
Local amateur boxers Antonio Brothers of Lexington Park, MD, and Devante Alexander of Great Mills, MD, won their first amateur fight last month at a local DMV competition in Glen Burnie, MD.
The Sept. 21 competition was promoted by Jake Smith Baltimore Boxing and held at Michael's Eighth Avenue  in Glen Burnie.
Both boxers are members of Knowledge Boxing Center in Lexington Park. According to Knowledge Boxing Center Head Coach Daryl Hinmon, the boxers "trained hard for a few months at the Knowledge Boxing Center to prepare. They developed their skills and built up their physical and mental conditioning until myself and Coach John Richardson felt as though they were ready for their first fight."
The Knowledge Boxing Center was opened in 2013 at the Carver Rec Center in the Southhampton neighborhood of Lexington Park. In February 2017, the gym moved to its new, larger facility at 21310 Great Mills Road, also in Lexington Park.
The mission of the Knowledge Boxing Center is to develop Southern Maryland residents into disciplined and productive students and citizens through Olympic-style competitive amateur boxing. Everyone who participates in the program will have a high probability of becoming a healthy, confident, disciplined, and productive member of the community by developing the habits of success, said Coach Hinmon, a founder of the organization. He listed these qualities that the Knowledge Boxing Center proudly accomplishes:
Provides a safe alternative to "hanging out."
Develops personal habits required for academic and social success.
Eliminates drug, alcohol, and tobacco use.
Decreases obesity for Southern Maryland citizens.
Provides children with critical self-defense skills and reduces violence.
Fosters the expansion of cross-cultural horizons.
Provides positive role models for at-risk youth.
Both Mr. Brothers' and Mr. Alexander's fights were highly competitive for each of the three rounds, Coach Himnon said.
"But our guys earned the decision. They both have a very strong work ethic and put in a tremendous amount of work to prepare. Coach Richardson and I are very proud of their accomplishment and look forward to their continued successes both inside and outside the boxing ring," he said.
To learn more about Knowledge Boxing Center, call 301-481-2978 or click on the Knowledge Boxing Center link provided above.
The organization is located at 21310 Great Mills Road, Lexington Park, MD 20653.