Year in Review Highlights TPP's Annual Meeting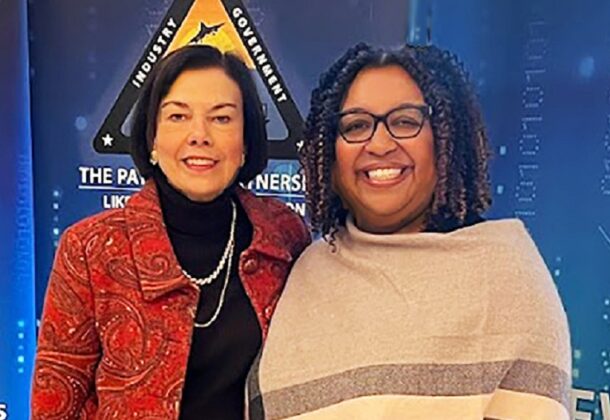 The Patuxent Partnership Executive Director Bonnie Green, left, and guest speaker CSM President Dr. Yolanda Wilson.
The "filled to capacity" annual meeting of The Patuxent Partnership opened with greetings from Bonnie Green, TPP executive director, and Doug Belvin, TPP board president, who welcomed the new members of the TPP board:
Mark Goodrich, Naval Systems Inc.
Bert Johnston, Johnston Consulting
Dan Papp, Northrop Grumman Corp.
Sheebah Smith, Calvert County Department of Economic Development
Dr. Yolanda Wilson, president of the College of Southern Maryland
The meeting was held at the University System of Maryland at Southern Maryland on October 19.
Mr. Belvin thanked the outgoing and continuing board members for their service. Benefactors were recognized for their support.
Ms. Green provided a brief year in review of TPP's programs, engagements, and community support. She shared some highlights on TPP programs that expanded education through STEM-based activities; supported research and development through programs, including the inaugural TPP 2023 Defense Summit in June; and continued workforce development efforts.
TPP completed the successful launch of SoMD 2030, a workforce development initiative funded by the Naval Air Warfare Center Aircraft Division, better known as NAWCAD. SoMD 2030 includes paid internships, the highly successful TechJobsRule apprentice program, a Spark! Student Career Awareness Fair for high school students, and other ways to expand the local workforce.
Ms. Green introduced guest speaker Dr. Wilson with whom TPP has collaborated on STEM initiatives, the Pathways to Engineering Scholarship, and the development of a cyber program.
Dr. Wilson shared with TPP members the latest CSM developments and the value of the CSM collaboration with TPP. CSM is addressing transportation challenges, expanding dual enrollment, working to address the needs of the current workforce, and meeting students where they are on their higher education journey.
About The Patuxent Partnership
The Patuxent Partnership is a nonprofit member organization that fosters collaboration between government, industry, and academia to advance education through STEM-based initiatives; to advance technology through speaker programs, forums, and networking; to advance science and technology transfer through the exchange of ideas, information, and data related to technologies; and to increase workforce development through an array of initiatives.
To learn more about The Patuxent Partnership and its programs, visit its Leader member page.