Navy Expands Typhoon Relief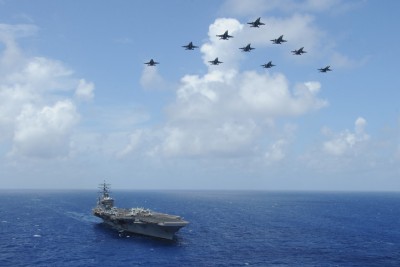 Morning Coffee is a robust blend of links to news around the internet concerning the Naval Air Station Patuxent River economic community. The opinions expressed here do not necessarily reflect those of the Leader's owners or staff.

The USS George Washington aircraft carrier group, with its contingent of Navy cruisers and a destroyer, has been ordered "to make best speed" to the Philippines in support of Typhoon Haiyan relief efforts, reports The Christian Science Monitor. US Marines already on the ground are providing search and rescue and helicopter lift support along with associated efforts utilizing the MV-22 Osprey. More Marines are headed to the region from Japan and the Navy is staging amphibious assault ships that will provide drinking water through desalination plants and supply other critical equipment, according to CNN.
Three senior Navy civilian intelligence officials are being investigated by federal authorities in reference to an alleged contracting scheme involving homemade rifle silencers, according to the Washington Post. Court records state that the silencers were made by an auto mechanic for $8,000 and were then sold to the Navy for $1.6 million, a markup of 200 times the manufacturing cost. The court papers further allege that the silencers were destined for SEAL Team 6, the special operations unit that killed Osama Bin Laden. They were delivered to a Naval Research Laboratory warehouse in Chesapeake Beach, MD, in February and Naval Criminal Investigative Service agents seized the silencers two months later.
St. Mary's College of Maryland has been named the number four national liberal arts college in U.S. News and World Report's first "Best Colleges for Veterans" survey. This ranking reflects SMCM's commitment to offer federal benefits, including tuition and housing assistance, to veterans and active service members. Reuters quotes Brian Kelly, editor and chief content officer for U.S. News, as saying, "We developed these rankings to help them find a top-quality institution that also offers federal benefits that ease the burden of applying, paying for and completing a college degree."
The Navy and Marines plan to conduct an in-depth analysis of the Defense Enterprise Email cloud service operated by the Defense Information Systems Agency, reports Defense One. The Pentagon issued a directive to all Defense components to develop a plan to move email to the DISA cloud by October 2014.
Northrop Grumman has selected retired Navy Vice Admiral Mark Skinner to serve as Aerospace Systems sector vice president and deputy of business and advanced systems development, reports Washington Technology. Skinner will "lead and align the sector's presence in the Washington, D.C., area and serve as principal sector contact with the company's government relations team."
South Korea may receive four Northrop Grumman RQ-4 Global Hawks in 2017-2019, according to Aviation Week. The RQ-4 Block 30s unmanned surveillance aircraft would play a critical role in stopping strikes from North Korea before they are launched.
The British and French governments have received proposals from BAE and Dassault Aviation for a jointly developed unmanned combat aerial vehicle (UCAV) demonstrator, reports Defense News. The proposals detail plans to "mature and demonstrate critical technology and operational aspects for a future combat air system." Defense News also reports that the Robo Raven, a robotic bird created by US Army and University of Maryland researchers, could be a precursor to a camouflaged spy drone. The small aircraft mimics a bird so successfully that, "it has been attacked by a falcon on three separate occasions."
A military MQ-9 Reaper drone crashed into Lake Ontario on Tuesday, reports the Washington Post. The unmanned aircraft was flying a New York Air National Guard training mission.  The drone was unarmed and there were no reports of injury.
ManTech Systems Engineering Corp., Fairfax, Va., is being awarded a $24,248,855 modification to a previously awarded indefinite-delivery/indefinite-quantity contract (N00421-13-D-0002) to exercise an option for the procurement of warfare analysis and assessments, modeling and simulation, advanced concept development and acquisition analysis support for the Naval Air Systems Command's Warfare Analysis and Integration Department.  Work will be performed in Patuxent River, Md., and is expected to be completed in November 2014.  Funds are not being obligated at time of award.  Funds will be obligated on individual delivery orders as they are issued.  The Naval Air Warfare Center Aircraft Division, Patuxent River, Md., is the contracting activity.