Local Banker Crews Nalls' L-39 Albatros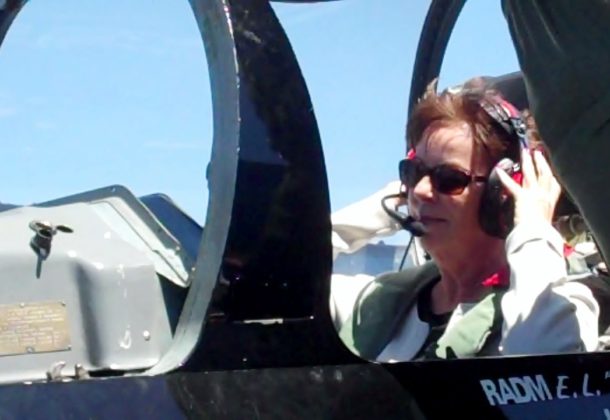 It's an honor, says Ken Reed of S. Hunt Aero, to have the legendary aircraft of Nalls Aviation based at St. Mary's County Regional Airport.
Mr. Reed includes the Harrier on tours of his company's hangars, his pride not unlike Art Nalls', whose devotion to the Sea Harrier — a single-engine, single-seat Vertical, Short, Takeoff and Landing (VSTOL) fighter — ranks mention in Wikipedia, which notes, "Art Nalls, LtCol, USMC (ret), "flew Harriers extensively in the military and developed a great enthusiasm for this jet."
But on a windy day in early May it was another of Nalls Aviation's legendary fighter jets commanding a flurry of attention at St. Mary's County Regional Airport. The L-39 Albatros, Czech-built for service with the British Royal Navy, the fighter is a two-seat, single-engine jet trainer, capable of speeds up to 480 knots, and designed for operations aboard ship. And this L-39 had room for a passenger on a quick delivery to Manassas, Virginia.
Mr. Reed, charged with following the fighter to bring its crew home, invited the passenger and invited S. Hunt Aero's bank lending team from Old Line Bank in California, Maryland. Margaret Sawyer, vice president of commercial lending, got the seat, and some of the lending team spent their lunch hour seeing her train and take-off.
"Having the opportunity to ride in the L-39 with Art Nalls was an offer that I couldn't refuse," said Ms. Sawyer. "Art Nalls is a true professional, from the pre-flight instructions, the aerobatic maneuvers over the Patuxent River, to soaring along the Potomac River with absolutely breathtaking views. It is difficult to explain the exhilaration of that experience other than to , WOW, that was one wild and  amazing ride!!!
Some of the training Ms. Sawyer received, and her reactions are captured in the videos below.
Nalls Aviation's L-39 Albatros was designed and built in what is now the Czech Republic, formerly Czechoslovakia, by Aero Vodochody in 1982. The Czech spelling of "Albatros" traditionally only has one 's' at the end, but both are correct for this aircraft, says the Nalls webpage on the L-39C.
The aircraft first flew in 1968 and was in full-scale production from 1971 until 1999. The L-39 was the first, turbofan-powered jet training aircraft and has been the most widely used advanced trainer in the world. At one time, it was used in 27 countries and has been adapted as a light, ground attack aircraft.
The British Sea Harrier has been tailored for the airshow market. The aircraft is the last of the all-British fighters, ending a lineage that began with the famed Sopwith fighters in the first World War. "It is now in the hands of a cadre of former Marine Corps aviators,  experienced Harrier pilots, test pilots, and airshow performers!" The Harrier's  VSTOL capability is ready made for airshows, able to operate safely from the smallest to largest "airfields and landing sites, that other jets simply cannot," reads the website, "even grass strips!"
St. Mary's County Regional Airport is 44174 Airport Road, Hollywood, MD 20636