House Proposes EA-18G "Growler" Funding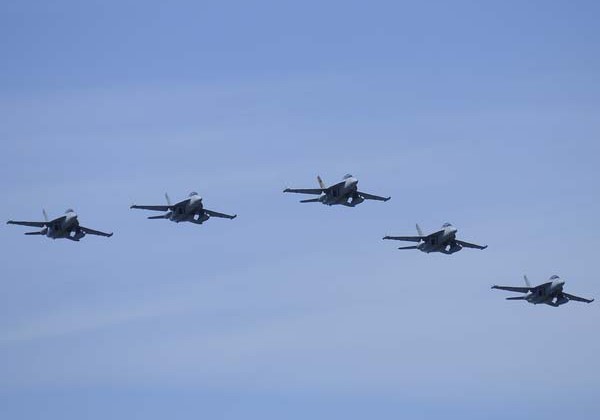 Morning Coffee is a robust blend of links to news around the internet concerning the Naval Air Station Patuxent River economic community. The opinions expressed here do not necessarily reflect those of the Leader's owners or staff.

The House Armed Services Committee proposes to add $450 million for the Navy to buy ' five more Boeing EA-18G electronic attack planes in fiscal 2015 budget, reports Reuters. This falls short of the 22 jets on the Navy's list of "unfunded priorities" as the service and defense contractor try to avert  closure of Boeing's St. Louis production line. Boeing pursues EA-18G funding claiming its Growler outperforms the F-35's response to electromagnetic threats and is less vulnerable to radar detection.
American defense contractors  look to the Middle East to compensate US  government budget cuts, according to National Defense. Nearly $100 billion in defense sales are available in the Middle East and North Africa through 2019, along with tens of billions of dollars in services and support contracts. The region's largest spenders are Saudi Arabia, the United Arab Emirates, Qatar, Iraq and Algeria.
Intense electromagnetic tests are scheduled for the MQ-8C Fire Scout this spring, reports the Wall Street Journal. The MQ-8C Fire Scout uses custom-designed "Faraday" cages that protect sensitive equipment on the aircraft from signal interference. The unmanned autonomous helicopter can fly almost twice as long and carry three times more intelligence-gathering sensor payloads than its predecessor, the MQ-8B.
To boost its defense industry, Japan lifted a restrictive arms ban, reports Bloomberg Business Week. Japan banned most weapons exports to bolster the nation's post World War II pacifism policy. The ban hindered  development of the Japanese defense industry and its Asian neighbors have profited from its marketplace absence. South Korea exports $3.4 billion worth of arms in 2013 and China became the fourth-largest arms exporter, behind  the US, Russia, and Germany.
The Selective Service System sent erroneous notices to thousands of Maryland men between 18 and 25 telling them to register even though they already had, according to WTOP. The April 23 letters were an "automated data processing error" and the recipient's first and last names are transposed. They can be disregarded by anyone who is already registered.
Mobile User Objective System (MUOS) satellites provided nearly 150 hours of secure data connections during the Navy's 2014 Ice Exercise, the first time military users transferred large data files over stable satellite connections in the arctic, reports the Wall Street Journal. A Lockheed Martin team working above the Arctic Circle provided further evidence that MUOS is a reliable asset in the far north at a time when many governments are focusing on arctic security.
An independent online survey called the Navy Retention Study was launched May 1 and aims to gather fleet opinions and measure which factors motivate sailors' stay-or-leave decisions, according to the Navy Times. Cmdr. Guy Snodgrass, a fighter pilot who believes that the Navy's officer corps is facing an exodus, created the survey which takes up to 15 minutes to complete. The unofficial survey covers every major community in the service ranging from sailors and SEALs to surface warfare officers and aviators.
The Military Times offers a primer for veterans interested in starting a business. The military teaches service members leadership skills and responsibility that many civilians can't match, yet the unemployment rate for the latest generation of veterans has long been higher than that of civilians. Many vets are responding to the hiring drought by going into business for themselves.
Diane Balderson, formerly NAVAIR's executive director and assistant commander for contracts, was named Monday as Northrop Grumman's vice president of contracts and pricing, according to the Washington Business Journal. She was the first civilian to lead the NAVAIR contracting organization.