Zwerdling to Perform at Ward Virts Concert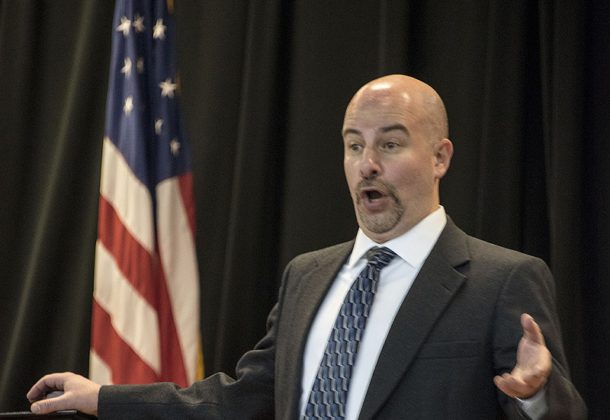 Baritone Antony Zwerdling and pianist Stephen Johnson will perform at 3 pm May 13 as part of the Inaugural Festivities for CSM President Dr. Maureen Murphy. The concert will be held at the College of Southern Maryland's Prince Frederick Campus. Both men are CSM music faculty members.
The performance is part of the Ward Virts Concert Series. The concert is free and will be held in the B Building multipurpose room at 115 J.W. Williams Road on campus. Doors open at 2:30 pm. No tickets or reservations are needed. For more information, call 301-934-7828 visit the college's website.
Mr. Zwerdling is an active performer in the Washington, DC, area. He performs over 25 operatic roles, including Papageno in "The Magic Flute," Figaro in "Il Barbiere di Siviglia," Eisenstein and Falke in "Die Fledermaus," Sid in "Albert Herring," Marcello and Schaunard in "La Bohème," Mama Agata in "Le Convenienze teatrali," and Pooh Bah in "The Mikado." He appears with numerous opera companies, including Washington National Opera, Opera Lafayette, Wolf Trap Opera, Boston Lyric Opera, Lake George Opera, and Washington Concert Opera. As an Oratorio soloist, his repertoire includes Handel's "Messiah," the "Requiems" of Brahms, Mozart and Fauré, and Bach's "St. Matthew Passion." He performs with Handel & Haydn Society, Washington Bach Consort, Washington Master Chorale, Baltimore Choral Arts Society, Concert Artists of Baltimore, and Philharmonia Baroque. Mr. Zwerdling has also presented solo recitals for Music at Penn Alps, Church of the Epiphany, and Ward Virts. He received his bachelor degree from Northwestern University and masters from Boston University. In 2007, he earned his doctorate from Shenandoah Conservatory, writing about songs of Samuel Barber. Dr. Zwerdling is an active voice teacher, maintaining a studio at Hood College and College of Southern Maryland.
The Ward Virts Concert Series celebrates the life and talent of Ward Virts, a talented Southern Maryland pianist who died suddenly in 1993. A group of Ward's friends and classmates conceived the Ward Virts Piano Project to bring the love of life, beauty, and music that Mr. Virts embodied to a new generation of Southern Maryland students, performers, and appreciative audiences. The concerts are performed on a world-class handcrafted Bosendorfer Grand Piano, a gift to CSM's Prince Frederick Campus from the Ward Virts Piano Project.
For more about the College of Southern Maryland, visit its Leader member page.