TPP to Host Update on St. Mary's AeroPark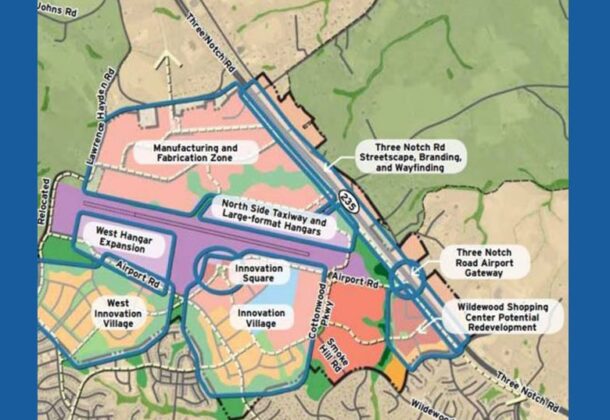 What is happening at the St. Mary's County AeroPark? Find out on October 4 when The Patuxent Partnership presents an update from 8:30 to 10:30am.
Check-in and networking will begin at 8am. This is an in-person event only.
Registration is complimentary for all attendees. Attendees do not have to be TPP members. Register here. Walk-ins will be welcome.
Wednesday, October 4, 2023 | 8:30 – 10:30am
University System of Maryland at Southern MD | Building 2 Center Hall
44219 Airport Road, California, MD
The morning's tentative schedule:
8 – 8:30am
Check-in / coffee / networking
Welcome and overview by Bonnie Green, executive director of The Patuxent Partnership
Opening remarks from St. Mary's County Commissioner Eric Colvin
Economic Development Projects with Chris Kaselemis, director of St. Mary's County Economic Development
Roads/Infrastructure Changes with Jim Gotsch, director of the St. Mary's County Public Works & Transportation (invited)
AeroPark Growth with Ken Reed, managing member of S. Hunt Aero LLC
MEDCO: Work at the AeroPark presented by Tom Sadowski, executive director of the Maryland Economic Development Corporation
AIRWorks: Moving Work Outside the Gate presented by Scott Hoffman, Chief LSI Engineer, AIRWorks
10:15 – 10:30am
Conclusion / Q&A
About The Patuxent Partnership
The Patuxent Partnership is a nonprofit member organization that fosters collaboration between government, industry, and academia to advance education through STEM-based initiatives; to advance technology through speaker programs, forums, and networking; to advance science and technology transfer through the exchange of ideas, information, and data related to technologies; and to increase workforce development through an array of initiatives.
To learn more about The Patuxent Partnership and its programs, visit its Leader member page.