SoMD 2030 Aims to Get Students Into STEM Jobs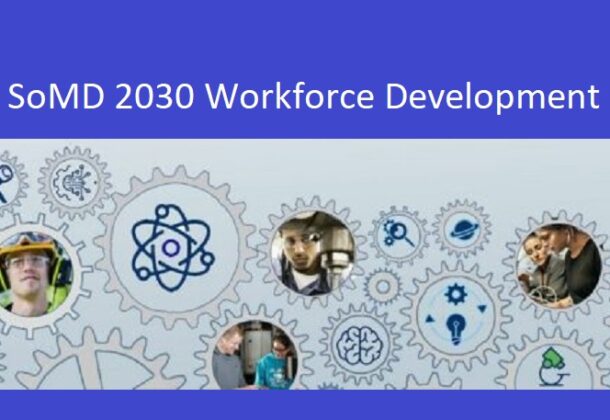 SoMD 2030 is seeking companies that want to host high school apprentices and/or college interns. A grant awarded by Naval Air Warfare Center Aviation Division is providing seed funding to get students into jobs in the STEM pipeline. College interns are hired by The Patuxent Partnership and paid by funding provided to SoMD 2030.
The create a company profile to host college interns, click here.
High school apprentices will work 450 hours during the academic year (mid-June 2023 through May 1, 2024).
College interns will participate in an eight-week summer internship program (30 hours per week) from June 12 to August 4, 2023.
Virtual sessions for college students will be hosted at 11am Tuesday, February 14; 8pm Thursday, February 16; and noon Friday, February 17. Learn more here.
College interns are hired by The Patuxent Partnership and paid by funding provided to SoMD 2030 ($17 per hour).
Interns and apprentices must have mentors/supervisors who are in the department they are working in, not HR or Talent Acquisition Group. Most importantly, they must have meaningful work.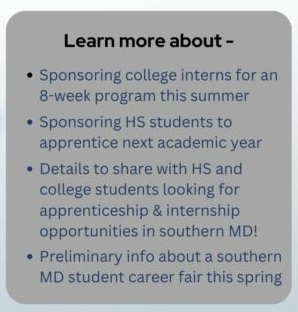 Please note: Students participating in AMP/Tech Jobs Rule are primarily younger than 18 and will require special permission to access NAS Patuxent River and Webster Outlying Field in St. Inigoes.
SoMD 2030 is a joint initiative of the Southern Maryland Navy Alliance and The Patuxent Partnership, with funding provided by Naval Air Warfare Center Aviation Division. This collaborative effort will build up the STEM pipeline, increase career opportunities, and partnerships with government, industry, and academia.
The initiative will connect talented students with paid apprenticeships and internships in Southern Maryland. It will expand the successful TechJobsRule high school apprentice program now connected with the Apprenticeship Maryland Program and create college internship opportunities with local industry and government, leading to further education and career opportunities.
About The Patuxent Partnership
The Patuxent Partnership is a nonprofit member organization that fosters collaboration between government, industry, and academia to advance education through STEM-based initiatives; to advance technology through speaker programs, forums, and networking; to advance science and technology transfer through the exchange of ideas, information, and data related to technologies; and to increase workforce development through an array of initiatives.
To learn more about The Patuxent Partnership and its programs, visit its Leader member page.