Revenues Up 2nd Year for Top 100 Defense Contractors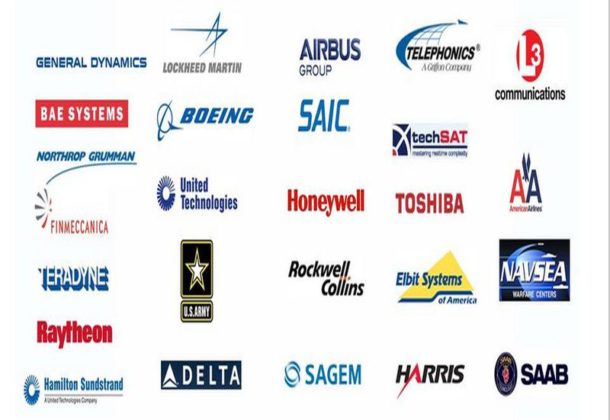 Morning Coffee is a robust blend of links to news around the internet concerning the Naval Air Station Patuxent River

economic community. The opinions expressed here do not reflect opinions of the Leader's owners or staff.
For the second  year, revenues grow for the Top 100 defense companies in the world, which Defense News reports as a sign the defense industry has weathered sequestration-related budget cuts. Total 2017 defense revenues for the Top 100 companies came in at $375.4 billion, a 2.9 percent increase over the companies represented in the previous year's Top 100 list.
Two companies reach a $2.8 million settlement with the Navy for overbilling taxpayers, reports Navy Times. Federal investigators determined International Marine and Industrial Applicators charged the Navy more than $1.4 million to rent equipment from Marine Equipment Supply, an entity wholly owned by current and former IMIA executives while performing maintenance in 2012 on the aircraft carrier Ronald Reagan at Puget Sound Naval Shipyard in Washington. IMIA didn't disclose its relationship with Marine Equipment Supply when it invoiced the Navy for the Reagan project, according to the DOJ.
 NASA orders 25 percent cuts at all centers, including all Goddard-run sites such as Wallops Island, reports WBOC News. The news comes on the heels of a  NASA statement about efforts to increase efficiencies between NASA Goddard Space Flight Center's Wallops Island and Greenbelt, MD, reported in Delmarva Now. The Wallops Island Regional Alliance met last week to discuss its concerns about how a NASA Goddard study, could negatively impact the Wallops Flight Facility on the Eastern Shore of Virginia.
 NASA's much-anticipated Parker Solar Probe – a spacecraft to "touch" the sun – has launched from Cape Canaveral, reports Business Insider. Over the next seven years, Parker will fly directly through the sun's roasting hot outer atmosphere in a bid to unlock some of the solar system's greatest secrets, in particular scientists hope it will provide information about solar winds and solar energy particles.
Voice of America reports, CNO ADM John Richardson warning about an uptick in activity in the North Atlantic, saying Chinese ships are regularly underway and  Russia's underwater flee more active than in a quarter century. "Even five years ago, we wouldn't have seen anything like this." Navy Times reports on the CNO's remark, and on DefSec Jim Mattis downplaying the presence of the Russian vessels.
Raytheon and a Lockheed Martin-Dynetics team are locked in a head-to-head battle to build a powerful 100-kilowatt laser for the Army, reports Defense News, pushing the envelope on directed-energy capability development.
Attacks on American power systems are likely to be small and localized, reports Fifth Domain from the Black Hat annual hackers conference. Current technology likely cannot shut down large portions of the US grid, but hackers can target an individual location, said Joe Slowik, an adversary hunter at the cybersecurity firm Dragos. "I might not be able to turn off the Eastern Seaboard, but if I want to cause a power blip in Washington DC, that is feasible," Slowik said.
Wildfires have been raging across the western United States this summer, and like many natural disasters, elements of the Army and Air National Guard, and the Air Force Reserve have been mobilized to assist local communities. Air Force Times provides video of fighting the Carr fire in California.
In 2014, the  year after the EPA signed-off on the clean-up of a Superfund site on the Coast Guard's Curtis Bay yard, World War II era debris was uncovered just across the cove where "essentially housing" was located said Capt. Matt Lake, the yard's commanding officer. The Coast Guard announced Wednesday that erosion uncovered the debris on the southeast side of its Hawkins Point base in August 2014, in an area of trees, picnic pavilions and baseball fields known as the Grove. Preliminary testing results show metals and other contaminants in the soil and the groundwater across about a third of an acre, as far down as 8 feet, reports Capital Gazette.
The State Department has notified Congress of Sweden's intent to buy the Patriot Missile system, reports Defense News. The $3.2 billion deal includes four Patriot Configuration 3+ Modernized Fire Units — the latest variant of the system — including 100 Patriot MIM-104E Guidance Enhancement Missile-TBM missiles and 200 Patriot Advanced Capability-3 Missile Segment Enhancement.
Contracts:
Booz Allen Hamilton Inc., McLean, Virginia (HR0011-18-D-0001); Centra Technology Inc., Burlington, Massachusetts (HR0011-18-D-0002); E3 Federal Solutions LLC, McLean, Virginia (HR0011-18-D-0003); ECS Federal LLC, Fairfax, Virginia (HR0011-18-D-0004); ManTech Advanced Systems International, Herndon, Virginia (HR0011-18-D-0005); Schafer Government Services LLC, Arlington, Virginia (HR0011-18-D-0006); and Strategic Analysis Inc., Arlington, Virginia (HR0011-18-D-0007), were each awarded an indefinite-delivery/indefinite-quantity contract for a maximum amount for $850,000,000 with cost-reimbursable, fixed-price and labor-hour task orders for technical and analytical support services. This contract provides for a range of high level advisory and assistance services to all Defense Advanced Research Projects Agency technical and support offices. Work will be performed in Arlington, Virginia, with an expected completion date of Aug. 12, 2023. No funds are being obligated at the time of award. This contract was a competitive acquisition and 12 offers were received. The Defense Advanced Research Projects Agency, Arlington, Virginia, is the contracting activity. 
M.C. Dean Inc., Tysons, Virginia, was awarded a competitive single award indefinite-delivery/indefinite-quantity contract to provide outside continental U.S. (OCONUS) information technology solutions in support of the U.S. European Command (USEUCOM) and Space and Naval Warfare Systems Center Atlantic's requirement for engineering development, design, procurement, fabrication, configuration, integration, installation, logistics, and maintenance. The face value of this action is $95,888,000 (contract ceiling). The minimum guarantee of $100,000 will be satisfied through the issuance of task order 0001, which will coincide with contract award and be funded by fiscal 2018 operations and maintenance appropriations. Performance will be OCONUS. Proposals were solicited via FedBizOpps, and two proposals were received. The ordering period consists of a one-year base period with four, one-year options for a total contract life cycle of five years. The ordering period of performance for the base period is Aug. 13, 2018 through Aug. 12, 2019, and each option year follows consecutively through Aug. 12, 2023. The Defense Information Technology Contracting Organization, Scott Air Force Base, Illinois, is the contracting activity (HC102818D0046).
Lockheed Martin Rotary and Mission Systems, Moorestown, New Jersey, is awarded an $8,493,662 fixed-price–incentive-firm-target modification to a previously awarded contract (N00024-14-C-5104) to exercise options for ship integration and test of the Aegis Weapon System (AWS) for AWS baselines through Advanced Capability Build 12. The contract provides for Aegis shipboard integration engineering, Aegis test team support, Aegis modernization team engineering support, ballistic missile defense test team support, and AWS element assessments. This contract will cover the AWS ship integration and test efforts for five new-construction DDG 51-class ships, the major modernization of five DDG 51-class ships and the major modernization of six CG 47-class ships. It will additionally cover the integrated combat system modifications and upgrades for all current ships with all AWS baselines up to and including ACB 12. Work will be performed in San Diego, California (50 percent); Norfolk, Virginia (45 percent); and Camden, New Jersey (5 percent), and is expected to be completed by April 30, 2020. Fiscal 2018 other procurement (Navy) funding in the amount of $8,493,662 will be obligated at time of award and will not expire at the end of the current fiscal year. The Naval Sea Systems Command, Washington, District of Columbia, is the contracting activity.
KBRwyle Technology Solutions LLC, Columbia, Maryland, was awarded a $56,218,258 modification (0002 41) to contract W52P1J-12-G-0061 for maintenance, supply, transportation and other logistics functions for the Army Prepositioned Stock-3. Work will be performed in Goose Creek, South Carolina, with an estimated completion date of Aug. 14, 2019. Fiscal 2018 operations and maintenance (Army) funds in the amount of $22,000,000 were obligated at the time of the award. U.S. Army Contracting Command, Rock Island Arsenal, Illinois, is the contracting activity.
Conley & Associates Inc.,* Newport News, Virginia, was awarded a $18,799,456 cost, cost-plus-fixed-fee, firm-fixed-price contract for providing command, control, communications, computers, intelligence, surveillance and reconnaissance sustainment support services for Aegis Weapon System vessels and platforms positioned worldwide. Bids were solicited via the Internet with seven received. Work locations and funding will be determined with each order, with an estimated completion date of Aug. 12, 2023. U.S. Army Contracting Command, Aberdeen Proving Ground, Maryland, is the contracting activity (W56JSR-18-D-0020).