RADM Nancy Lacore: Update to the Community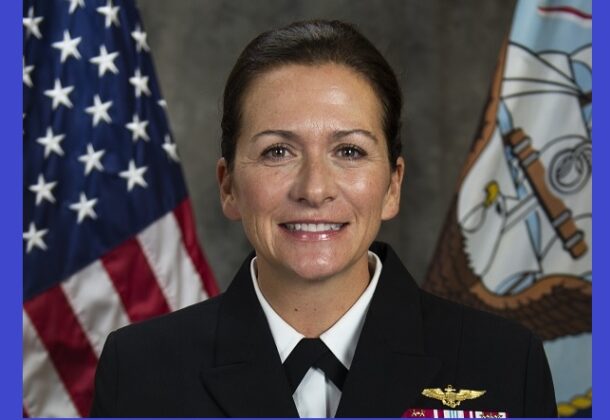 The Patuxent Partnership invites members and colleagues to attend an Update to the Local Community from RADM Nancy Lacore, commandant of the Naval District Washington. The event will be held October 3. RADM Lacore will discuss "What is going on at Naval District Washington & what it means for Pax River."
Tuesday, October 3, 2023 | 10 – 11am
University System of MD at Southern Maryland | Building 2 Center Hall
RADM Lacore is a native of Albany, NY, and a 1990 graduate of the College of the Holy Cross, where she earned a Bachelor of Arts degree and her commission from the Reserve Officer Training Corps program. She earned a Master of Arts degree from San Diego State University and is a graduate of the Air Command and Staff College and the National Defense University at the Joint Forces Staff College. She was designated a naval aviator in 1993.
Her flying tours include Helicopter Combat Support Squadrons Eight in Norfolk, VA, and Three in San Diego, CA, as well as Commander, Helicopter Tactical Wing Pacific. She affiliated with the Navy Reserve in 2000.
Her staff assignments include Naval Air Wings Pacific, San Diego, CA, and Commander Amphibious Squadron 4 Detachment 104, Bessemer, AL. She served as executive officer of Tactical Air Control Squadron 2186 and Commander Strike Force Training Atlantic and as chief staff officer for Commander, US 2nd Fleet Joint Force Air Component Commander, Norfolk, VA. She mobilized to serve as chief of Key Leader Engagement at Headquarters, International Security Assistance Force in Kabul, Afghanistan.
Her command tours include Commander Destroyer Squadron 40 Headquarters, Jacksonville, FL; CNE/CNA/C6F Maritime Partnership Program Detachment 413, Detroit, MI; and US Fleet Forces Command Maritime and Air Operations Headquarters, Norfolk, VA. She served in a post-command assignment as chief staff officer at US Fleet Forces in 2017, from which she mobilized to serve as commanding officer at Camp Lemonnier, Djibouti.
Check-in and networking will begin at 9:30am. Walk-ins are welcome.
This will be an in-person event only. Register here.
USMSM is at 44219 Airport Road, California, MD.
About The Patuxent Partnership
The Patuxent Partnership is a nonprofit member organization that fosters collaboration between government, industry, and academia to advance education through STEM-based initiatives; to advance technology through speaker programs, forums, and networking; to advance science and technology transfer through the exchange of ideas, information, and data related to technologies; and to increase workforce development through an array of initiatives.
To learn more about The Patuxent Partnership and its programs, visit its Leader member page.