Morning Coffee: China Conducts Its First Carrier Landing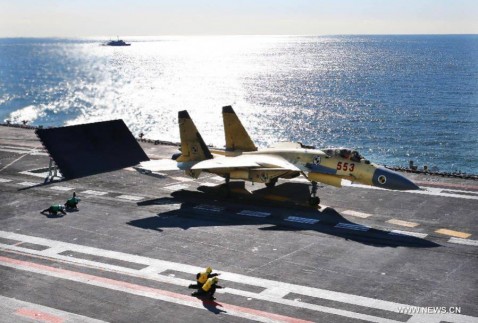 Morning Coffee is a robust blend of links to news around the Internet concerning the Naval Air Station Patuxent River economic community. The opinions expressed here do not necessarily reflect those of the Leader's owners or staff.
China lands the first jet on its test aircraft carrier, CNN reports. FlightGlobal says the Chinese are testing flight ops with a reverse-engineered Russian Su-33 Flanker. Defense News speculates that China may be buying Su-35 fighters from Russia.
Simulation is playing a vital role in developing Joint Strike Fighter tactics, Aviation Week reports. War Is Boring says the latest production F-35B can't shoot a Sidewinder missile yet.
EADS North America says defense cuts are likely in any sequestration budget deal. Defense Secretary Leon Panetta says Congressional gridlock is threatening national security (paywall), Defense Daily reports.
Boeing gets another $9.8 million from NAVAIR for additional engineering analyses in support of the F/A-18A-D Service Life Extension Program.
The Enterprise notices that Pax River has a social media presence.