McCain Leadership Removed for 'Preventable' Collision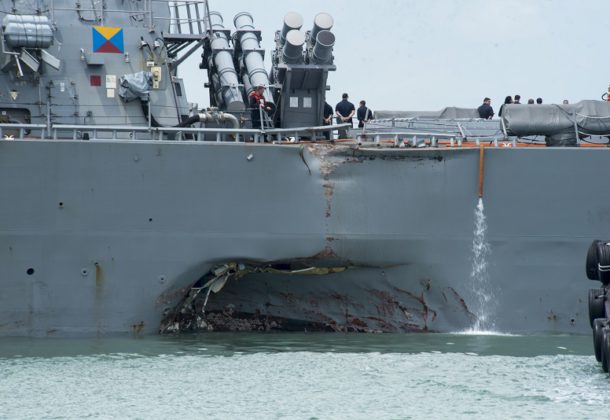 Morning Coffee is a robust blend of links to news around the Internet concerning the Naval Air Station Patuxent River

economic community. The opinions expressed here do not reflect opinions of the Leader's owners or staff.
The Navy fires USS John S. McCain leadership and calls the fatal August collision "preventable," reports Navy Times. "While the investigation is ongoing, it is evident the collision was preventable, the commanding officer exercised poor judgement, and the executive officer exercised poor leadership of the ship's training program," a Navy release states.
Junior leader empowerment can help fix the Navy's problems causing fatal at-sea disasters, Navy Times reports. CNO ADM John Richardson says, "In too many cases, we have stolen leadership opportunities away from our small team leaders."
DoD Live shows how the USNS Comfort hospital ship helps during disasters. The Comfort is one of two of the Navy's Mercy-class hospital ships and has one of the largest trauma facilities in the US.
Yonhap News says President Donald Trump may travel to the DMZ, the inter-Korean border, when he visits South Korea in November. A White House advance team checked out sites in September for  Trump's "special activity."
Hackers linked to North Korea recently targeted US electric power companies with spear-phishing emails, reports NBC News. The emails used fake invitations to a fundraiser to target victims. Downloading the attached invitation sent malware into victims' computer networks.
Of all the parties involved in the Korean missile crisis, the most difficult to read is China, reports Geopolitical Futures. The Chinese Foreign Ministry's almost daily platitudes about peaceful resolution do little to reveal China's multiple and conflicting objectives.
A Navy destroyer sailed near islands claimed by China in the South China Sea this week, reports Reuters, provoking anger in Beijing even as Trump  seeks Chinese cooperation in reining in North Korea's missile and nuclear programs. The operation was less provocative than others since President Trump took office.
While governments are treading gingerly, China has spurred accelerating development of electric vehicles from automakers worldwide. China is both the world's biggest supporter of electric cars and the world's largest car market, reports The New York Times.
Did Trump speak to the Pentagon before banning transgender people from the military? ask 115 House Democrats in a letter seeking all communications between the White House and Pentagon backing Trump's statement that he was "doing the military a great favor" with his July ban, reports the Washington Examiner.
Flight Global reports the Navy has cleared the Boeing T-45 Goshawk fleet to resume regular flights, but only on aircraft outfitted with a digital upgrade to the CRU-99 oxygen monitor. Concerns with the system that generates and supplies oxygen to the training jet's pilots prompted a five month grounding and led to development of the solid-state oxygen monitor (CRU-123), which provides information on temperature and oxygen pressure.
The US Navy will start losing its largest surface combatants in 2020, reports Military Times. In 2020, the cruisers Mobile Bay and Bunker Hill will reach their service life of 35 years and are slated for decommissioning. But despite the age of the hulls, some observers are loathe to see the cruisers go, especially given that there is no immediate replacement for the 567-foot ship that bristles with 122 vertical launch missile tubes and two 5-inch guns.
The Norwegian company DSG Technology has a new .50-caliber round that can travel an impressive 60 meters underwater, reports Army Times. The round "opens up water and creates a bubble," allowing the round to travel underwater. Standard ammunition will ricochet off the surface of the water, potentially putting other US ships in harm's way. This technology solves the problem.
"Significant and persistent interactions between current and former military personnel and a broad network of Russia-focused accounts, conspiracy theory focused accounts, and European right-wing accounts" prompt Vietnam Veterans of America to request Facebook and Twitter to work closer with federal agencies to protect troops, veterans, and military families from disinformation campaigns led by foreign irritants, reports Military Times.
EPA's rollback of emission controls on power plants won't happen overnight, reports USA Today. EPA Administrator Scott Pruitt's announcement (reported by Fox News) of plans to sign a proposed rule rolling back the Obama-era rule is the first of a number of steps required.
Contract:
General Dynamics Electric Boat Corp., Groton, Connecticut, is being awarded a $20,596,056 cost-plus-fixed-fee modification to a previously awarded contract (N00024-09-C-2104) for planning and execution of USS Washington (SSN 787) post-delivery work period. Electric Boat will perform planning and execution efforts including long-lead-time material procurement in preparation to accomplish the maintenance, repair, alterations, testing, and other work on USS Washington during its scheduled post-delivery work period. Work will be performed in Newport News, Virginia (99 percent); and Groton, Connecticut (1 percent), and is expected to be completed by February 2018. Fiscal 2015, 2016, and 2017 shipbuilding and conversion funds in the amount of $20,596,056 will be obligated at time of award and will not expire at the end of the current fiscal year. Supervisor of Shipbuilding, Conversion and Repair, Groton, Connecticut, is the contracting activity.