Navy P-8A Aircrew Rescues Stranded Mariners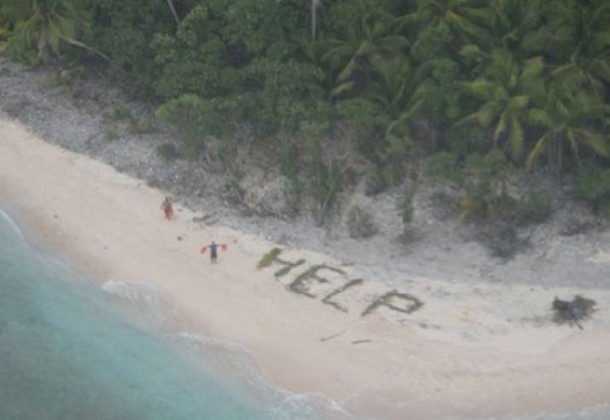 In this US Navy photo, two men wave life jackets and look on as a U.S. Navy P-8A maritime surveillance aircraft discovers them on the uninhabited island of Fanadik in the Pacific Ocean. 
Morning Coffee is a robust blend of links to news around the internet concerning the Naval Air Station Patuxent River economic community. The opinions expressed here do not reflect opinions of the Leader's owners or staff.

A Navy P-8A crew rescued three marooned mariners from a deserted island in the Pacific Ocean. The castaways used palm fronds to spell the word "help" in the sand, Fox News reports.
"Should You Really Trust a Robot?" asks Aviation Week. A study of human-robot trust, partially funded by the US Air Force Office of Scientific Research, finds volunteers were likely to continue relying on robots long after their actions were misleading and even dangerous.
Reuters reports American allies, including Norway and Singapore, have expressed interest in acquiring Boeing's P-8A Poseidon maritime patrol plane, Deputy DefSec Robert Work said, adding "it's just a great, great airplane."
DefSec Ash Carter offered few specifics last week in the ongoing disputed South China Sea. Breaking Defense reports DefSec Carter "carefully tiptoed around ongoing Chinese national security provocations."
More US special forces could be on their way to Syria, CNN reports. The Obama administration is considering sending 250 additional personnel to advise rebel groups on how to increase the pace of operations against ISIS.
Just one day after US Secretary of State John Kerry's call for peace in Afghanistan, the Taliban launched a rocket attack in Kabul, Stars and Stripes reports. A Taliban spokesman said the attack, which caused no casualties, was meant to undermine Secretary Kerry's visit.
A warning was issued to a Senate Armed Services subcommittee: The Army will be  "… outranged and outgunned by many potential adversaries in the future," Breaking Defense reports. A lieutenant general reminded the subcommittee that the individual services don't fight wars and that an optimized mix of forces will be needed from each of the services to execute a given strategy against a specific threat.
A Navy officer has been charged with espionage, ABC News reports. The lieutenant commander had been assigned to a maritime patrol and reconnaissance unit in Norfolk, VA, that provides airborne anti-submarine warfare and intelligence, surveillance and reconnaissance.
The Associated Press reports that a North Korean colonel has fled to South Korea. The defection of this senior-level spy agency official follows news that a group of 13 workers had defected to the South three days earlier.
CIA Director John Brennan said his agency will not engage in harsh "enhanced interrogation" practices, including waterboarding, even if ordered to by a future president, NBC News reports.
The Army wants to develop an unmanned aerial system that can act as a scout for ground vehicles, Defense Systems reports. The UAS would follow the road in front of the vehicle at a low altitude while matching the vehicle's speed, with the ability for ground crew to manually override the UAS controls when necessary.
The Army's first female infantry recruit enlisted last week, Army Times reports. The 25-year-old former police officer plans to serve in a military occupational specialty that opened up to women April 1.