History Made Aboard the USS Ford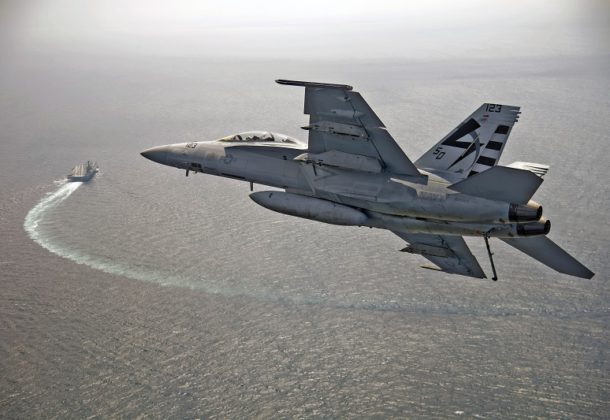 Morning Coffee is a robust blend of links to news around the Internet concerning the Naval Air Station Patuxent River

economic community. The opinions expressed here do not reflect opinions of the Leader's owners or staff.
The USS Gerald R. Ford made history with the successful landing and launching of aircraft from VX-23 using the Advanced Arresting Gear (AAG) and Electromagnetic Aircraft Launch System (EMALS), reports Military Times. The ship left Norfolk on Friday and conducted the ship's first arrested aircraft landing or "trap," followed 87 minutes later by the first ever catapult-shot launch.
The US conducted a test of its Terminal High Altitude Area Defense ( THAAD) defense system in Alaska by launching a ballistic missile over the Pacific Ocean, reports NBC News. Military officials called the test on Sunday "successful." Also, the US flew two supersonic B-1 bombers over the Korean Peninsula as part of a joint exercise with Japan and South Korea, reports The Washington Post.
ADM Harry Harris told the audience at the Japan-US Military Statesmen Forum in the nation's capital last week that the US Pacific Command is focused on three threats: North Korea, China's interactions in the South China Sea, and the Islamic State spreading to the Philippines, reports Military Times. North Korea launched its 11th missile test this year on Friday morning. North Korea's Foreign Ministry issued a warning of "a stern action of justice" if the US seeks new sanctions against that country's latest test of an intercontinental ballistic missile, Yonhap News Agency reports.
On Sunday, China's People's Liberation Army showed off its military might with a parade to celebrate the PLA's 90th birthday, South China Morning Post reports. The parade showcased what President Xi has done to improve China's military since he took power five years ago, the Morning Post reports.
The US Air Force's newest KC-46A Pegasus tanker wrapped up electromagnetic testing, putting Boeing one step closer to delivering the first aircraft, IHS Jane's 360 reports. The test  took place at NAS Pax River.
Gen. Mark Milley, the Army chief of staff, says the US will need a replacement for its M1 Abrams tank, Breaking Defense reports. "Are we sort of at that point in history where perhaps mechanized vehicles are going the way of horse cavalry and going the way of the dinosaur?" he asked. "I don't think so, but I'm skeptical enough to continue to ask that."
Nick Lappos, an advanced technology fellow at Sikorsky Aircraft, says the US military's future helicopter fleets should share more parts in order to better control operational and maintenance costs, DoD Buzz reports. Mr. Lappos believes choppers should have relatively identical or at least common cockpits, crew stations, and other core systems.