DoD Objects to Wind Farm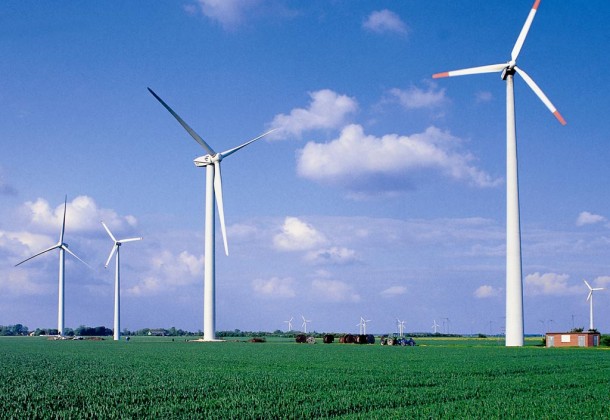 Morning Coffee is a robust blend of links to news around the internet concerning the Naval Air Station Patuxent River economic community. The opinions expressed here do not necessarily reflect those of the Leader's owners or staff.

The proposed Somerset County wind farm project is now facing formal Pentagon opposition. DoD objected last week to the installation of 25 wind turbines, reports WBOC16. Congressman Steny H. Hoyer explained, and supported, the DoD's position, "Today the Department of Defense objected to the proposed Great Bay Wind project on the grounds that it poses a significant threat to the mission and world-class stealth radar system at Patuxent River Naval Air Station. This is a critical development in our efforts to protect Pax River and the 22,000 jobs it supports." Delegate John Bohanan released the Pentagon's letter last week. Last week, Somerset County's Planning and Zoning Commission approved final recommendations for the project in a 3-1 vote. Members of the commission agreed to increase the height restriction for the turbines from 400 ft to 575 ft.
An F-35C Lightning II jet is scheduled to land on its first aircraft carrier today, Nov. 3, an event 17 years in the making, according to Military Times. Two Joint Strike Fighters are to head out from Marine Corps Air Station Yuma, Arizona, bound for the carrier USS Nimitz for two weeks of testing off the coast of San Diego.
NAVAIR is offering a virtual knowledge library and will launch two websites Nov. 19 to make it easier to collect, categorize and share vital acquisition information, reports NAVAIR News. The two Knowledge Management System (KMS) sites will be accessible to all NAVAIR government and contract support professionals with a common access card and a SharePoint account, and both focus on meeting the needs of the NAVAIR workforce, with one providing Logistics and Industrial Operations (AIR 6.0) content and the other acquisition knowledge.
A Center for Strategic and Budgetary Assessments (CSBA) report details a new approach to defense strategy known as Third Offset which would reduce the proposed role of the F-35 JSF, according to Aviation Week. The report advocates development of a global surveillance and strike (GSS) system based on long-range, very stealthy aircraft, including the Long-Range Strike Bomber (LRS-B) and a new family of unmanned combat air systems, along with submarines. Tactical fighter, surface combatant and heavy land-force programs would be cut back.
Matt Bissonnette, a former member of the Navy SEALs who wrote a best seller about the raid that killed Osama bin Laden, is under criminal investigation for possibly disclosing classified material, according to The New York Times.
NAS:Pax River test flights breaking the speed of sound over the Atlantic in an airspace referred to as the "test track" rattled residents of southern New Jersey last week, according to CBSPhilly.
Command of Air Test and Evaluation Squadron (HX) 21 changed hands during a ceremony at NAS:Pax River, reports NAVAIR News. Cmdr. Timothy Burke relieved Lt. Col. John Neville as commanding officer of HX-21 during the change of command ceremony in the squadron's hangar.
Airbus Defense and Space is developing a ship-based version of its TANAN rotary UAV, reports C4ISR&Networks. TANAN operates at a maximum altitude of 13,000 feet for eight hours with a range of up to 110 miles. The Airbus-DCNS agreement came as the US Navy prepares to conduct trials of the MQ-8C Fire Scout unmanned helicopter.
Expanding online shopping privileges to all honorably discharged veterans is just a matter of time according to the chief executive officer of the Army and Air Force Exchange Service, reports Military Times. One hurdle is determining how to share dividends for morale, welfare and recreation programs when a Navy, Marine Corps or Coast Guard veteran buys online.
The program manager of the Multi-Functional Information Distribution System (MIDS) program office (PMA/PMW-101) was relieved last week due to a loss of confidence in his ability to command, reports NAVAIR News.
Engility Corp., Chantilly, Virginia, is being awarded a $61,251,130 cost-plus-fixed-fee, indefinite-delivery/indefinite-quantity contract to procure up to 907,200 man-hours of engineering services for the functional organizations supporting numerous Department of Defense weapons acquisition programs and related research, development, test and evaluation efforts in support of the Naval Air Warfare Center Weapons Division. Services to be provided include design studies and evaluations associated with research, development, production and operations; test engineering services for planning, preparing for, performing, analyzing, and documenting results; transition engineering and related support services to transfer new technology from concept to Fleet support; and support services required for management of technical activities. Work will be performed at China Lake, California (60 percent); Point Mugu, California (30 percent); and Patuxent River, Maryland (10 percent), and is expected to be completed in December 2017. Fiscal 2015 working capital (Navy) funds in the amount of $165,000 are being obligated on this award, none of which will expire at the end of the current fiscal year. This contract was competitively procured via an electronic request for proposals; three offers were received. The Naval Air Warfare Center, Weapons Division, China Lake, California, is the contracting activity (N68936-15-D-0004).