Cast Announced for CSM's 'Pinocchio'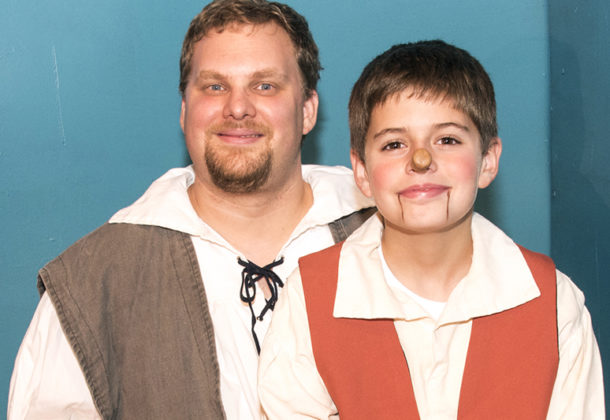 Michael Mickey (Geppetto) and Andrew Roell (Pinocchio) star in the College of Southern Maryland's Main Stage Theatre production of 'Pinocchio'.
Cast members have been announced for the College of Southern Maryland's Main Stage Theatre production of "Pinocchio," the classic tale of a wooden puppet who only wanted to be a real boy. The production is adapted from the original novel by Carlo Collodi.
CSM will perform the musical written by H.K. Hight. W.G. Pete Stokes wrote the music. Other lyricists are Patricia L. Stokes and Franco Migliacci.
Performances will be offered at the La Plata Campus Fine Arts (FA) Building at 7:30 pm Nov. 10 and 17, 8 pm Nov. 11, 12 and 18, and 2 pm Nov. 19.
Cast members include Andrew Roell of Leonardtown as Pinocchio, Michael Mickey of Marbury as Geppetto, Rick Fulton of Bryans Road as Mr. Cherry, Sabrina Martin of Waldorf as Turquoise Fairy, Ashton Gordon of Welcome as Cat/Assassin Cat, Emily Roell of Leonardtown as Fox/Assassin Fox, Nathan Daetwyler of Charlotte Hall as Candlewick, Ken LaClair of La Plata as Magnifico, Olivia Gordon of of Welcome as Talking Cricket and Georgia Hendricks of La Plata, Rory Daetwyler of Charlotte Hall, Jamie Slack of La Plata, Aurielle Mitchell of White Plains, Sarah Slack of Charlotte Hall, Katelyn Kovach of California and Emily Farnham of La Plata as Puppets.
Townspeople will be played by Kayla Watkins, Kehle Hatch, Gervon Robinson, Stephanie Patterson, Emma Ansell, Chris Fleming, Gershawn Mason and Maecy Richardson.
Pinocchio is produced by the College of Southern Maryland with special permission from the authors.
Tickets to the production are $15 for adults, $12 for seniors and military with ID and youth of high school age and younger. To order tickets, call 301-934-7828 or email [email protected]. To purchase tickets online, visit CSM's box office website.
For more about the College of Southern Maryland, visit their Leader member page.