ASEC Earns TPP Member of Year Award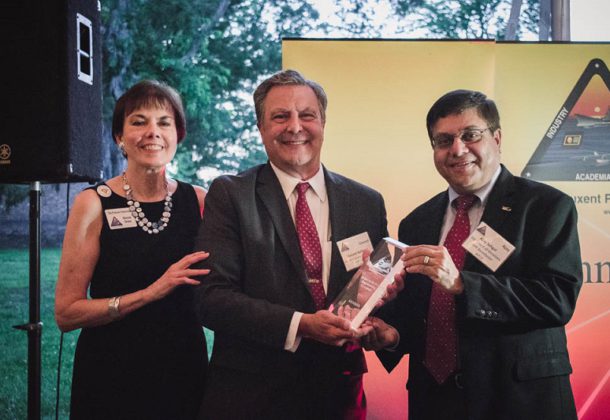 Bonnie Green, left, executive director of The Patuxent Partnership, presents TPP's 2017 Member of the Year Award to Vincent Bellezza, center, president of Aviation Systems Engineering Company. At right is Ajay Sehgal, TPP board of directors vice president.
Aviation Systems Engineering Company was honored for its outstanding leadership, community support, and commitment to the economic growth and development of Southern Maryland on May 23 when ASEC was named 2017 Member of the Year by The Patuxent Partnership.
The award is presented at The Patuxent Partnership's annual members dinner, which was held this year at Historic St. Mary's City. To be considered for the award, members demonstrate strength in business performance, employee culture, community affairs, and volunteer activities. Previous winners include Raytheon, HTii, Northrop Grumman Corp., and AVIAN LLC.
"We are fortunate to have members who are active and engaged in our community," said Bonnie Green, TPP executive director. "In the last year or more, ASEC has demonstrated extraordinary support of the TPP mission and gone above and beyond with involvement in community service."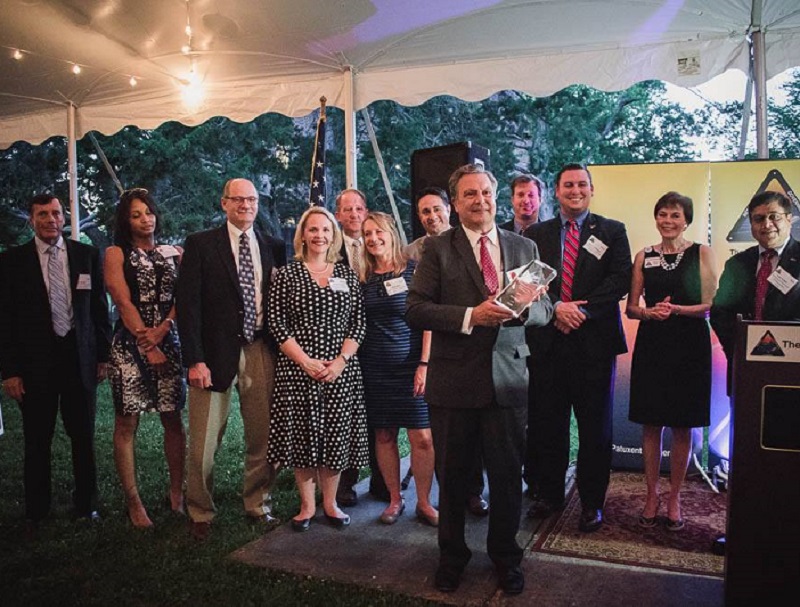 ASEC President Vincent Bellezza accepted the award, which was presented by Ms. Green and Ajay Sehgal, TPP board of directors vice president, with nearly 300 members and guests in attendance.
"On behalf of all the employees at ASEC, we are honored to receive the Member of the Year Award," Mr. Bellezza said. "ASEC was honored to work with TPP throughout the past year. We especially enjoyed teaching our future engineering students about unmanned systems, work that was enabled by an ONR grant."
ASEC collaborated with The Patuxent Partnership to develop and expand a quadcopter training program for more than 75 students, coaches, mentors, and parents from the tri-county area.
The program, initiated by TPP through a STEM-for-All grant from the Office of Naval Research, teaches theory and practical components of unmanned aircraft systems operations and flight. Participation is open at no cost to all high school students and teams in Calvert, Charles, and St. Mary's counties. Curriculum and training materials were developed by ASEC and is available online to participants. ASEC employees also volunteered as instructors for the program.
Also in 2017, ASEC established a scholarship for Southern Maryland high school seniors pursuing STEM degrees.
"At ASEC, we value our reputation and pride ourselves on putting the customer first and doing what is right for the warfighter," Mr. Bellezza said. "This award shows our commitment, passion, professionalism, and dedication throughout 2017 that supported the TPP mission, the Southern Maryland community, NAS Patuxent River, and the Navy."
"We thank ASEC for their strong culture of service and investing in building and retaining top quality talent right here in Southern Maryland," Ms. Green said.
ASEC is a veteran-owned small business that specializes in development, test, acquisition, and delivery support for military and civilian manned and unmanned aviation communities. ASEC maintains a fleet of customizable aircraft and has over 240,000 manned and unmanned flight hours in both the test and operational arenas.
About The Patuxent Partnership
The Patuxent Partnership is a non-profit organization that fosters collaboration between government, industry, and academia to advance technology research, development and transfer, and STEM workforce development in Southern Maryland.
To learn more about The Patuxent Partnership and its programs, visit its Leader member page.