639 Candidates Walk at CSM Winter Commencement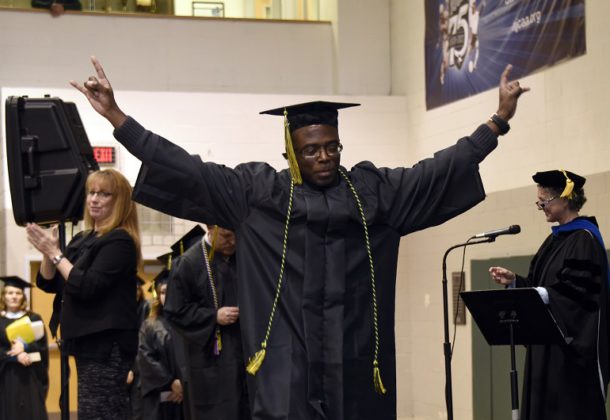 Six-hundred thirty-nine candidates for degrees and certifications were recognized Jan. 19, 2017, at College of Southern Maryland's 18th winter commencement at the La Plata Campus.
Dr. Brad Gottfried, president of the college, noted that the graduates included incredible stories of perseverance, overcoming challenges and the need to juggle family and work responsibilities while taking classes. No goal, however, is ever achieved without struggle, he noted.
"All of our students have stories, and all of them offer inspiration," Dr. Gottfried said.
CSM awarded 668 associate degrees and 320 certificates. Of the students receiving awards, 40 percent are from Charles County, 31 percent are from St. Mary's County, 21 percent are from Calvert County, and 8 percent are from outside the region. Close to one-fifth of all degree candidates for graduation earned a 3.5 grade point average or higher.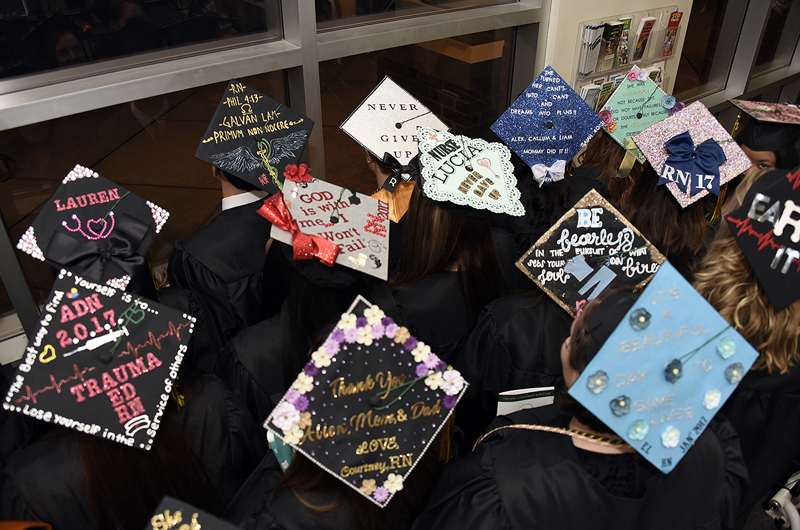 Associate degrees were awarded predominantly in the fields of general studies, arts and sciences and business administration, while general studies: transfer, accounting and emergency medical service-paramedic topped the list as the most popular certificates. Of the graduates, 60 percent are female.
Gottfried described several examples of students' perseverance, including the story of graduate Morgan Lake of Bowie, who made headline news in 2013 when a truck pushed her car off the Chesapeake Bay Bridge and she managed to survive. To recover, Lake had to take two years off from her studies at CSM. But she came back and finished, finally earning an associate degree in communication.
"She clearly is an inspiration to all of us," Gottfried said.
Some of the graduates, Dr. Gottfried noted, were already enjoying the success earned by their CSM degree, mentioning that one graduate wasn't attending the ceremony because he had already begun a new job and was in Italy for a month of all-expenses-paid training.
Oldest Graduate
Thomas Kettelle, 72, of Lexington Park earned an associate degree in arts and sciences with an AA emphasis, an associate degree in arts and sciences with an arts and humanities emphasis and an associate degree in arts and sciences in history.
"I've enjoyed CSM," Mr. Kettelle said. Taking courses "keeps my mind sharp."
Mr. Kettelle's business card identifies him as "professional student." He started college seven years ago, when he was 65. In 2009, Mr. Kettelle earned an associate degree in general studies from CSM and a bachelor's degree in social science from University of Maryland University College in 2014. He has continued taking courses from UMUC concurrently with his CSM coursework and is aiming to earn a bachelor's degree from UMUC in history by the end of 2020. After that? He's thinking maybe a master's in education.
Before his career as a professional student, Mr. Kettelle worked for the US Navy Department for more than 30 years and served active duty in the US Army, in the Naval Reserves and the District of Columbia Air National Guard. He is a former marathoner and triathlete and is the father of one son and one grandson.
Youngest Graduate
While there are two dozen winter commencement graduates who are 19, Jake DeLozier of Budds Creek is the youngest, having only celebrated his 19th birthday in November. Mr. DeLozier earned an associate degree in business administration at CSM. Starting this spring semester, he will continue his studies at Towson University, where he plans to earn a bachelor's degree in business, with a concentration in finance.
One of the most helpful experiences he had during his time at CSM, he said, was a semester working as a student assistant at the college, which gave him real-world work experience and expanded his network of contacts.
"The job taught me to speak to people more professionally," he said.
Keynote Speaker, Award-winning Journalist Roz Plater
The evening's keynote speaker was Emmy Award-winning television journalist Roz Plater. She spoke about the ups and downs of her 22-year career that included work in two of the country's top-10 markets, San Francisco and Washington, DC. However, she noted that her success had periods that seemed like insurmountable setbacks.
"My career almost didn't happen," Ms. Plater said. "And I had to jumpstart it again and again and again."
She encouraged the students to be persistent in chasing their dreams and not let challenges keep them from their goal.
"Sometimes you fall down. Sometimes you get knocked down. It doesn't matter how you got down there. It matters that you fight to get back up," she said.
For more on Ms. Plater, visit CSM's website.
Student Speaker
Student speaker Andrew Hackney, 21, of Mechanicsville earned an associate degree in general studies with honors and a certificate of general studies: transfer with honors. And he did it all debt-free.
At the Jan. 19 ceremony, Mr. Hackney, who was solely responsible for paying for his college education, spoke about his resolve to avoid debt and encouraged his fellow graduates planning to continue their education to pursue scholarship assistance. Scholarships "lifted a huge burden" off his shoulders, he said, and allowed him to focus on his studies.
He encourages other students to take advantage of the multiple scholarship opportunities that are available. "They're all out there," he said. "You just need to take the time to apply for them."
Trustee Emeritus Status Awarded
During the ceremony, former trustee James K. Raley Jr. was awarded emeritus status. He served two full terms in his position as trustee of the college, from 2000 to 2010, and as board chair from 2007 to 2010. Mr. Raley was noted for his significant contributions serving on the hiring committee for current President Gottfried and his service on the St. Mary's County Advisory Council and many other endeavors.
Mr. Raley was appointed a trustee by then-Maryland Gov. Parris Glendening. He was the first representative from outside Charles County to be selected from among the board's trustees for the board's top leadership position in 2007.
Commencement coverage will be available at the online newsroom. For photos from commencement and the nursing recognition ceremony, visit CSM's photo site.
For information about the college, call 301-934-7765 or 301-870-2309, 240-725-5499 or 443-550-6199, ext. 7765, or visit the website listed above.
For more about the College of Southern Maryland, visit its Leader member page.