Lex Park News

This spring, the COPs Unit hopes to connect more with Lexington Park residents and continue to clean up the neighborhoods.

Military and security developments involving the People's Republic of China are in keeping with a nation committed to gaining regional and global cyber- and military power.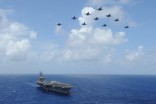 Cost containment strategies pull implementation tasks in-house with the goal of using smaller, community contractors to produce parts for military-designed systems.
Art at the Bottom

Founder of WiTWiT, photographer Jeff Clark returns from a once in a lifetime trip, except he's been there before and before … just never on a 15 day photo shoot before.