Lex Park News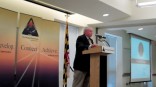 The TPP briefing, "Financial Management: Managing in Difficult Times" included contractor survival tips, including how to get an early read on the DoD budget.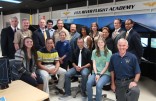 Blue-skying about scientific possibilities has come down to earth for teens, thanks to the Pax River Flight Academy.

Women+Math Workshops=April 26 also featuring presentations & discussions to inform young women on careers that rely heavily on math.
Art at the Bottom

Historic St. Mary's City to host free concert of local a cappella singers, St. Maries Musica in the Brick Chapel of 1667.