Lex Park News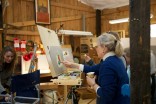 Rarely offered painting & sketching artistic workshops at Carolyn Egeli's studio are still scheduled to cover sketching, scaling sketches into a large painting, marine and figure painting.

"It's the love of making," that created PaxSpace, says a founder. "We used to fix things. We use to make things." And you can again at the new Makerspace at St. Mary's Industrial Park in Hollywood, MD

There's still time to join the Lexington Park Business and Community Association's 3rd annual Pride in the Park Parade Saturday, May 3 at 10 am.
Art at the Bottom

Traditions' designers attend the world's largest home furnishings industry trade show, and bring their finds home to Loveville, MD for customers like you.