Three Years with BAMS-D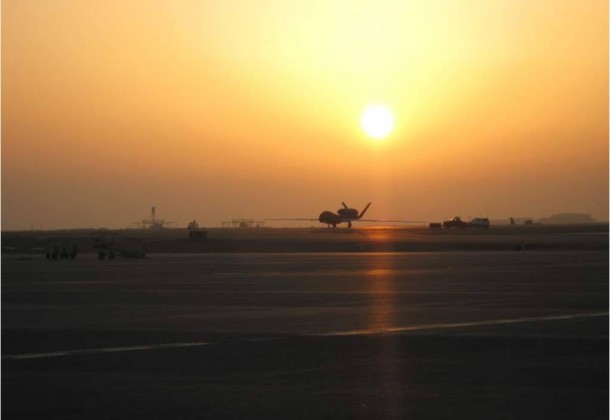 When Lt. Cmdr. John McLellan witnessed the Broad Area Maritime Surveillance Demonstrator's first flight during its initial deployment in January 2009, he never envisioned he would be commemorating the system's third year of operations this month.
McLellan is an individual augmentee supporting BAMS-D operations in Central Command area of responsibility. He was also part of the original team that established BAMS-D's forward operating base in 2008.
"We started from ground zero," McLellan said. "Everything was new for us three years ago."
Under the direction of Commander, Patrol and Reconnaissance Wing Five (CPRW-5), based in Brunswick, Maine, McLellan and another squadron member stood up the BAMS-D site with support from Northrop Grumman. The government-industry team operated the unmanned aircraft's first flight in less than a month after deploying in January 2009.
Aside from the biggest challenge of fielding a new system, the small detachment faced other obstacles. It operated from a remote location, had limited logistics support and shared the forward operating base with Air Force personnel overseeing the Global Hawk unmanned air vehicle.
"Initially, we experienced some growing pains," said McLellan, who volunteered for the deployment because he was excited about a new challenge. "Our operating procedures differed from the Air Force, but we were able to work through issues and their support has been phenomenal."
After his challenging eight-month deployment came to an end, McLellan returned to Brunswick and completed his tour with CPRW-5. He then transitioned to Pax River to serve as the BAMS Unmanned Aircraft System assistant program manager for logistics.
"My experiences supporting BAMS-D were directly applicable to the BAMS program," McLellan said. "The joint synergy efforts with the Air Force and maintenance issues we have seen with BAMS-D are valuable lessons for the BAMS program of record as it continues toward fleet introduction in 2015."
After a rewarding first deployment, McLellan volunteered for a second BAMS-D tour last year. The Navy originally planned to deploy BAMS-D for only six months, but due to the critical capabilities the high-altitude unmanned system brings to the forward-deployed warfighter, the deployment has been extended indefinitely.
"BAMS-D provides the fleet with a versatile asset that can provide intelligence, surveillance and reconnaissance collection," said McLellan, who acknowledged he was excited to have the opportunity to go back and support the system's mission. "Because of its endurance and flexibility, BAMS-D provides valuable intel collection for operational commanders."
Now the BAMS-D detachment officer-in-charge, McLellan oversees BAMS-D efforts in theater. BAMS-D supports more than 50 percent of maritime intelligence, surveillance and reconnaissance in theater and has flown over 5,500 hours in support of combat operations since 2008.
"I am honored to have played a part in BAMS-D operations, from its historic first flight to operations conducted today, but I could not have done it without the BAMS-D team here at Pax," McLellan said. "I look forward to celebrating BAMS-D third anniversary with the team when I return home sometime next month."
Source: PEO(U&W) Public Affairs