Video: X-47B "UFO" Launches from Pax Catapult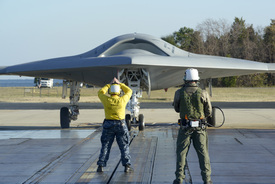 Morning Coffee is a robust blend of links to news around the Internet concerning the Naval Air Station Patuxent River economic community. The opinions expressed here do not necessarily reflect those of the Leader's owners or staff.
Northrop Grumman releases video of the Nov. 29 X-47B catapult shot at Pax River with suitably epic music.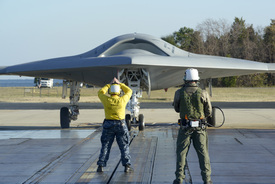 Inside Defense reports that four aircraft makers are vying to make the next presidential helicopter (paywall) and sees the Navy begging Congress not to derail the UCLASS program timetable.
If sequestration hits, Lockheed says layoffs would be months, not days, away, according to Washington Business Journal. Defense News says there is little reason to panic about sequestration – yet. Exempting military personnel from cuts will deepen the impact on civilian workers, Government Executive reports.
St. Mary's County's economic outlook is uncertain in the short term, according to an interview with the county's new economic development director in The Enterprise.
NAVAIR has officially announced that Lockheed Martin will get $127.7 million to finish retrofitting F-35 Lightning II Low Rate Initial Production (LRIP) Lot 5, which hasn't been produced yet. Time would like to know what the announcement actually means. Aviation Week says the total contract will be $3.8 billion.
The Atlantic argues against autonomous robotic killing.
FCW says Bring Your Own Device is not an inevitable development in government computing.