VA Lawmakers Question Dahlgren/Indian Head Move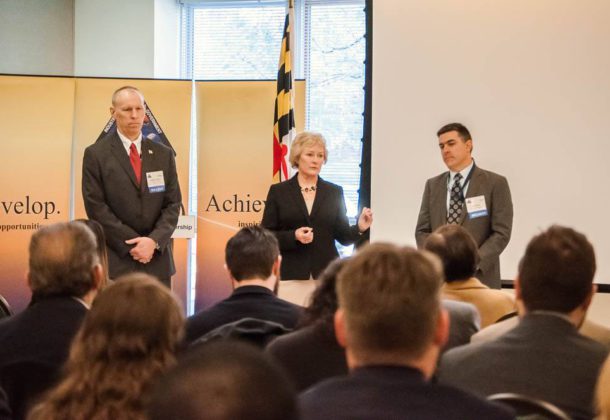 Collaboration among three regional Navy bases was discussed at a March 2018 forum sponsored by The Patuxent Partnership. Speakers were Ashley Johnson, technical director for NSWC Indian Head Explosive Ordnance Disposal; Leslie Taylor, NAWCAD executive director and NAVAIR deputy assistant commander for T&E at NAS Patuxent River; and Dale Sisson, deputy technical director for NSWC Dahlgren.
Morning Coffee is a robust blend of links to news around the internet concerning the Naval Air Station Patuxent River

economic community. The opinions expressed here do not reflect opinions of the Leader's owners or staff.
Congressman Rob Wittman (R-VA) seeks a hold on Navy plans to move a specialized division from Naval Surface Warfare Center Dahlgren to Indian Head, reports Fredericksburg.com, and seeks a provision in the NDAA to require further study. Sen. Mark Warner (D-VA) also wants "more answers on the rationale behind the move," according to his office.
Release of a government study showing chemicals more dangerous than previous thought and found largely in water supplies at US military bases continues to be delayed, reports Politico, with speculation that cleanup costs will skyrocket and force neighboring communities to pour money into treating their drinking water supplies.
Defense stocks will likely rise with increased geopolitical risk, Aviation Week reports on the market ups and downs associated with President Donald Trump's withdrawal from the Iraq nuclear deal. Speculation is still mixed on the prospects for the oil and aerospace industries. Industry reps are parsing the details in the regulations and policies to assess who the winners and losers will be.
China's first homebuilt aircraft carrier is headed to sea trials, reports Reuters. The yet-unnamed Type 001A carrier was unmoored and moved by tugs from its berth at the Dalian shipyard and headed out to sea.
The former commander of USS John. S. McCain and a senior enlisted crewmember will face separate courts-martial next week for their roles in a fatal collision that killed 10 sailors in August. USNI reports that Cmdr. Alfredo J. Sanchez will face a single charge of dereliction of duty in a special court-martial at the Washington Navy Yard on May 25 and Chief Boatswain's Mate Jeffery D. Butler will appear before a summary court-martial for similar charges May 24.
In concert with growing NATO concerns about a submarine activity worldwide, the US Navy's P-8A Poseidon is on the hunt for submarines lurking in seas around the world, reports Business Insider, and performing spectacularly.
Military Times reports "Silver Fang" was deployed by the Air Force to Afghanistan during the mid-2010s to help catch terrorists planting roadside bombs. A photo of the aircraft featured on page 3 in an August 2015 AFRL presentation shows a fixed-wing, rail-launched plane with a sensor ball attached at the aft of the aircraft.
Marines flex to the Middle East to bolster security at embassies amid violence over opening the US empassy in Jerusalem, reports Marine Corps Times. Corps officials would not detail how many Marines were sent or at what locations, but stated the Marines were part of the Marine Security Guard Security Augmentation Unit, headquartered at Quantico, Virginia.
Israeli forces killed 59 Palestinians and injured more than 2,700 Monday in a mass march on the Gaza border, AP reports, the deadliest day in Gaza since a 2014 war there.
Deteriorating conditions in Afghanistan render it too dangerous for personnel to drive from the US Embassy in Kabul to the airport, so helicopter transport is needed, reports Bloomberg. This spikes the cost of the trip to $2,250 from $1,350.
North Korean leader Kim Jong Un wants the world to watch it blow up its Punggye-ri nuclear test site, Japan Times reports, between May 23 and 25, inviting foreign journalists to witness what it said would be a "transparent" event.
Video of the deadly C-130 crash in Georgia suggests one or both engines on the left wing failed shortly after takeoff, reports Military.com. The May 2, 2018, C-130 crash killed nine Air National Guard members.
The Air Force will adopt the Army's Occupational Camouflage Pattern uniform starting in October, reports UPI. "The uniform works in all climates — from [Minot, North Dakota] to [Manbij, Syria,] — and across the spectrum of missions we perform," said chief of staff of the Air Force Gen. David L. Goldfein. "It's suitable for our airmen working on a flight line in Northern Tier states and for those conducting patrols in the Middle East."
Contracts:
URS Federal Services Inc., Germantown, Maryland, was awarded a $59,582,595 modification (0001 82) to contract W52P1J-12-G-0028 for logistics support services at Fort Polk, Louisiana. Work will be performed in Fort Polk, Louisiana, with an estimated completion date of May 17, 2020. Fiscal 2018 operations and maintenance (Army) funds in the amount of $26,098,329 were obligated at the time of the award. US Army Mission and Installation Contracting Command, Fort Polk, Louisiana, is the contracting activity.
Naval Automatic Group Marine LLC, Norfolk, Virginia, is awarded a $14,577,290 firm-fixed-price, indefinite-delivery/indefinite-quantity supply contract for the acquisition of Motor Operated Pilot Valves (MOPV). Naval Automatic Group Marine LLC, will design and construct the MOPV for use aboard Navy ships, which will replace the existing solenoid-operated pilot valves which are installed in Aqueous Film Forming Foam (AFFF) and Washdown Counter Measure systems. The MOPV will provide two control functions, as a four-port master MOPV and a 3-port service MOPV. The four-port master MOPV will be used to initiate AFFF concentrate flow and firemain flow for mixing and disbursement to AFFF systems aboard ship. The 3-port MOPV serves as the local disbursement valve for either firemain flow or the AFFF mixture. The MOPV specified herein shall be a 4-port valve with capability to function as a 3-port valve. Work will be performed in Norfolk, Virginia, and is expected to be completed by September 2023. Fiscal 2018 other procurement (Navy) funds in the amount of $217,500 will be obligated at contract award and will not expire at the end of the current fiscal year. This contract was competitively procured as a small business set aside with two proposals received. The Naval Surface Warfare Center Philadelphia Division, Philadelphia, Pennsylvania, is the contracting activity (N64498-18-D-4000).
Booz Allen Hamilton Inc., McLean, Virginia, was awarded a $10,944,445 task order under previously awarded contract (M67400-18-F-0065) for analysis support service in support of III Marine Expeditionary Force and Marine Corps Installations Pacific. This contract contains options, which if exercised, would bring the cumulative value of the contract to $56,946,309. Work will be performed on Marine Corps; bases and Air Stations in Japan, with expected completion date of July 6, 2023. Fiscal 2018 operations and maintenance (Marine Corps) funds in the amount of $10,944,445 will be obligated at the time of award, and funds in the amount of $1,679,950 will expire at the end of the current fiscal year. This contract was competitively procured via proposals solicited among General Services Administration One Acquisition Solution for Integrated Services Pool 1 contractor holders, with three offers received. The Marine Corps Installation Pacific Regional Contracting Office, Okinawa, Japan, is the contracting activity.
22nd Century Technologies Inc., McLean, Virginia, has been awarded a $7,217,980 firm-fixed-price contract for information technology and process support services in support of the 88th Medical Group Information Technology support services. This contract provides for cyber and medically focused information technology services for the Wright-Patterson Medical Center by furnishing personnel and supervision. Work will be performed at Wright-Patterson Air Force Base, Ohio, and is expected to be complete by November 9, 2023. This award is the result of a competitive acquisition and 15 offers were received. Fiscal 2018 Defense Health program funds in the amount of $1,200,000 are being obligated at the time of award. Air Force Life Cycle Management Center Management Center, Wright-Patterson Air Force Base, Ohio, is the contracting activity (FA8604-18-C-2000).