US, South Korea Military Drills Underway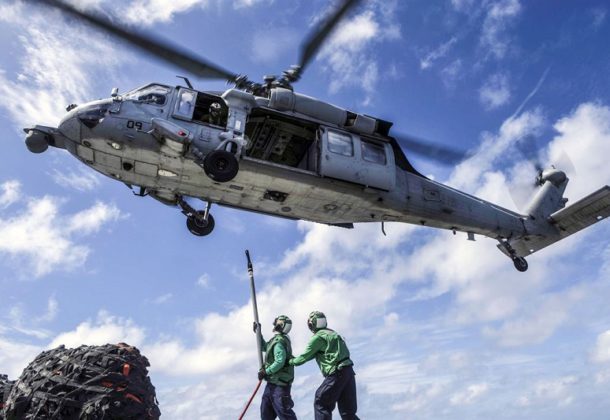 Morning Coffee is a robust blend of links to news around the Internet concerning the Naval Air Station Patuxent River

economic community. The opinions expressed here do not reflect opinions of the Leader's owners or staff.
South Korean military officials expect another missile launch from North Korea this week as a US/South Korea military drill takes place this week, The Straits Times reports. Exercises that began Monday involve fighter jets, helicopters and 40 naval ships, including the aircraft carrier USS Ronald Reagan, reports CBS News. Yonhap News Agency reports nuclear envoys from the US and South Korea also will hold talks this week to discuss efforts to address persistent nuclear and missile threats from North Korea.
President Donald Trump could pull the US out of the North American Free Trade Agreement with Canada and Mexico, reports The Hill. A fourth round of talks is taking place this week in Washington, DC, and the negotiations seem surrounded by angst and gloom for those with the most invested in the pact's future.
The Atlas V rocket launches a new US spy satellite on a secret mission, reports space.com. The NROL-52 satellite soared into orbit Oct. 15 atop a United Launch Alliance rocket, which lifted off from Cape Canaveral Air Force Station in Florida.
Amid a targeted lobbying effort, Congress weakened the DEA's ability to go after drug distributors, even as opioid-related deaths continue to rise, a Washington Post and "60 Minutes" investigation finds. By 2016, the opioid war had claimed 200,000 lives, more than three times the number of US military deaths in the Vietnam War. Overdose deaths continue to rise. There is no end in sight.
Hoverfly believes it has just what the US Army needs. Its unmanned aircraft systems can fly for a month and are quickly deployable and barely detectable, and the company thinks its tethered UAS can provide a multitude of capabilities, reports Defense News.
A Chinese polar research vessel is the first to have navigated all three major shipping routes through the Arctic, South China Morning Post reports. It is China's ambition to establish a foothold in the Arctic with this icebreaker making its way through the frozen waters of the Northwest Passage.
Fifthdomain.com reports the 2016 hacking of an Australian company, which resulted in the theft of data from military programs like the F-35 and P-8 surveillance aircraft, did not compromise any classified information linked to the joint strike fighter. Joe DellaVedova, spokesman for the F-35 Joint Program Office, said, "No classified F-35 information was compromised."
Veterans Affairs is assuring veterans that it will not change the Individual Unemployability program in fiscal 2018, reports Army Times. VA officials dropped plans for a controversial benefits cut, but military families still fear they could lose thousands in monthly payouts.
USS Constitution to set sail Oct. 20 to commemorate anniversaries, reports Navy Times. The ship is heading out for the first time in three years to celebrate the Navy's birthday and the anniversary of the Constitution's first launch.
Seasonal wildfires are a natural occurrence in the Golden State, reports Vox.com, but humans are making them worse and increasing the harm from them: We fuel them, we build by them, and we ignite them.
Contracts:
Applied Defense Solutions Inc., Columbia, Maryland, has been awarded a $7,370,513 firm-fixed-price modification (P00009) for space situational awareness services. The contract modification provides for nongovernmental space situational awareness solutions to augment the government's ability to detect and characterize space threats and improve integration amongst Department of Defense, intelligence community, interagency, and nongovernmental space assets. Work will be performed at Schriever Air Force Base, Colorado, and is expected to be completed by Oct. 18, 2018. Fiscal 2018 operations and maintenance funds are being obligated at the time of award. The 50th Contracting Squadron, Schriever Air Force Base, Colorado, is the contracting activity (FA255017C8002).
Huntington Ingalls Inc. – Newport News Shipbuilding, Newport News, Virginia, is being awarded a $59,784,744 cost-plus-fixed-fee, firm-fixed-price contract for planning and execution of the fiscal 2019 USS Boise (SSN 764) engineered overhaul. This contract includes options which, if exercised, would bring the cumulative value of this contract to $385,679,633. Work will be performed in Newport News, Virginia, and is expected to be completed by February 2021. Fiscal 2018 operations and maintenance (Navy) funds in the amount of $55,884,394 will be obligated at time of award and will expire at the end of the current fiscal year. Fiscal 2018 other procurement (Navy) funding in the amount of $3,900,350 will be obligated at contract award and will not expire at the end of the current fiscal year. This contract was competitively procured via the Federal Business Opportunities website, with two offers received. The Naval Sea Systems Command, Washington, District of Columbia, is the contracting activity (N00024-18-C-4314).