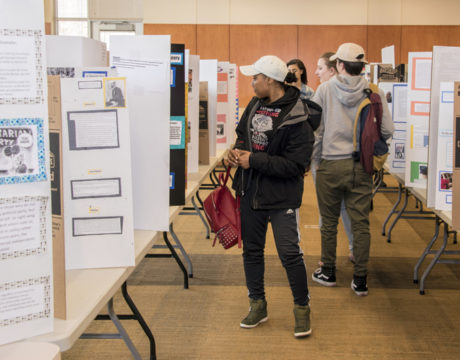 Over several weeks this spring, College of Southern Maryland students spent time researching and investigating issues associated with invisible disabilities. Their work culminated in the preparation of CSM's annual two-day Social Justice Day event, held April 11 and 12, 2018.
Category Community News · Tags Amara Soffos, Christopher Ankney, College of Southern Maryland, college-southern-maryland, Corrita Myers, CSM, Dan Lipsey, Denise Gilmer-Knudson, Jennifer Fossell, Jennifer L. Edwards, Jenny Mackenzie, Joseph Rollo, Kristi Bingham, Lisa Lynk, Rachael Mehls, Renata Zgorski, Social Justice Day, Stephanie Arnone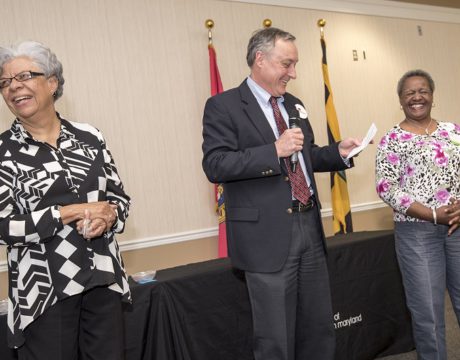 The College of Southern Maryland recognized 67 employees who have accumulated more than 720 years of service to the college at a ceremony Feb. 24 at the La Plata Campus.
Category Community News, Leader Features · Tags Alise Jorgensen, Amee Patel, Annie Jackson, Barry Hamilton, Brandon Patterson, Bruce Washington, Catherine Jordan, Christina Thompson, Christine Arnold-Lourie, Christine Deen, College of Southern Maryland, college-southern-maryland, CSM, CSM President Dr. Brad Gottfried, Cynthia Ellis, Cynthia Wright, Deborah Rutledge, Debra Jacques, Dick Whalen, Dr. Bradley Gottfried, Dr. Cicero Fain, Dr. Eileen Abel, Dr. Fawaz Roumani, Dr. John Short, Dr. Stephanie McCaslin, Dr. Tracey Stuller, Dr. Valerie Shelton, Earl Brawner, Elizabeth Rourke, Erich Hintze, Georgia Neil, Hazel Woodland, Ileatha Price, Joyce Embrey, Judith Mills, Julie Andrews-Walker, Karen O'Connor, Karen Smith Hupp, Kathleen MacAdams, Kathleen Parsons, Kelly Winters, Kimberly Yellman, Krista Keyes, LaShonda Marshall, Laurie Cangelosi, Lena Hancock, Marcy Gannon, Mary Osborne, Mary Washington, Michael Whelan, Michelle Goodwin, Michelle Ruble, Morag Dahlstrom, Patricia Christofaro, Peggy Jones, Philip Hawkins, Phyllis Coombs, Rebecca Welch, Renata Zgorski, Robert Cochrane, Robin Grivetti, Samuel Fleming, Sara Cano, Shaunda Holt, Sonia Fernandez, Sue Shelor, Susan Strickland, Thirza Morgan, Thomas Cox, Tiffany Gill, Ulana Koropeckyj Chorney, Vince Dobbs, William Dove, Yikui Gu