Social Justice Day Comes to CSM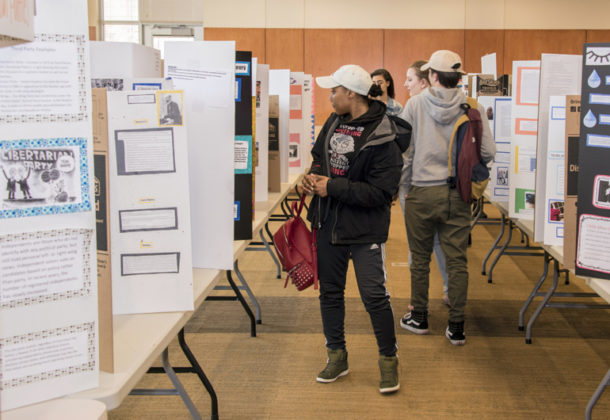 Students at the College of Southern Maryland Prince Frederick Campus spent several weeks this spring researching and investigating issues associated with invisible disabilities. Nearly 130 projects culminated students' research for the student juried poster session.
Events Help Students With Greater Understanding of Invisible Disabilities
Over several weeks this spring, College of Southern Maryland students spent time researching and investigating issues associated with invisible disabilities. Their work culminated in the preparation of CSM's annual two-day Social Justice Day event, held April 11 and 12, 2018.
The theme this year, "Understanding Invisible Disabilities," gave students a chance to explore issues related to invisible disabilities and how they affect the justice system, media, communication, and social and psychological well-being through a variety of projects, presentations and even a simulation lab.
"We usually think of neurological disabilities when using the term 'invisible,' but we addressed the issue more broadly to include any disability that is not readily apparent. This may include learning disabilities, mood disorders, ADHD, PTSD, or any number of medical conditions that impair daily activity," said CSM communication professor Denise Gilmer-Knudson.
Close to 130 projects culminated student research for the juried poster session. Rachael Mehls earned first place for her poster "Dyslexia: An Invisible Disability." Second place went to Stephanie Arnone for the poster "How Type 1 Diabetes Affects Interpersonal Communication." Third place was won by Amara Soffos for her poster "Can't Take a Joke," which investigated the impact of sexual harassment on women.
The first day of the event featured a documentary series, which allowed students to walk in the shoes of someone with autism as they watched "Invisible Disabilities — The Problems of Perception" by Dr. Jenny Mackenzie. The second documentary, "It's Real: College Students and Mental Health," addressed mental health issues that are a common experience for college students. Professor Christopher Ankney led a writing exercise after the documentaries for students to reflect on what they had learned, and then express their thoughts through poetry.
CSM counselor Jennifer Fossell facilitated a panel at which students looked at their own invisible disabilities, the daily challenges they face, and how they have been able to find help and hope through education, counseling, accommodations, and medical treatment.
"This year's Social Justice Day was refreshing because it was made clear from the seminar discussions and research projects submitted by students that CSM is an open and welcoming college," said CSM sociology professor Lisa Lynk. "Many students stated that they felt the atmosphere at CSM is student-centered based on learning opportunities inside the classroom and outside with programs like Social Justice Day."
On the second day, Joseph Rollo, retired director of the Psychological Services Unit of the Prince George's County Police, talked to students about the critical nature of law enforcement interaction with people who are suffering with invisible disabilities and how he has helped police officers who suffered from their own post-traumatic stress. Maj. Dan Lipsey, retired from Prince George's County Police, spoke about his own struggles after an officer-involved shooting.
Kristi Bingham, Jennifer L. Edwards, and Corrita "Rita" Myers of the Calvert County Crisis Intervention Center spoke at an information session to students that was titled, "Breaking the Silence: Interpersonal Relationships and Invisible Disabilities."
Students were able to experience technologies that are available to their fellow students during an Assistive Technology Simulation Lab organized by Renata Zgorski, disability support adviser at the Prince Frederick Campus. Products like the Kurzweil Reader and Dragon Naturally Speaking help CSM students with disabilities learn more effectively.
The event ended with a book discussion led by Gilmer-Knudson of "Supporting College and University Students with Invisible Disabilities" by Christy Oslund. A group of college faculty and staff shared practical and theoretical applications for students with disabilities.
"CSM faculty and staff are committed to educating and assisting our students in obtaining their goals at CSM and beyond," Ms. Lynk said.
Social Justice Day is cross-disciplinary program that came out of a student service learning project "Make a Difference Day." The event addresses social, governmental, and legal issues affecting society today. The initial event was a half-day program that has since expanded to a full-day and now two-day event organized by a cross-disciplinary CSM committee with representatives from sociology/psychology, education, criminal justice, communication, biology, languages and literature, and nursing.
For photos from the event, visit CSM's photo sharing site.
For more about the College of Southern Maryland, visit its Leader member page.