SMECO Donates to Operation: Tohidu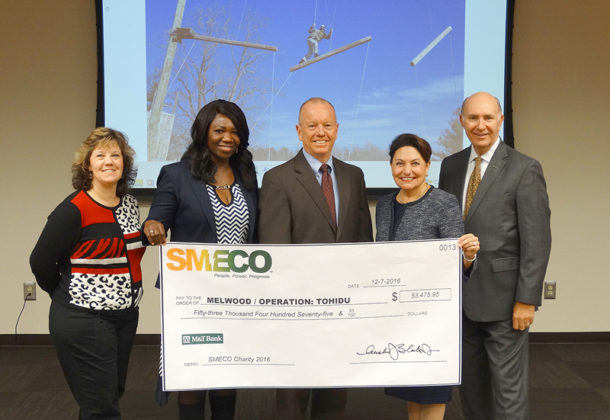 Southern Maryland Electric Cooperative employees were able to donate $53,475.95 to Melwood's Operation: Tohidu after holding two fundraisers in 2016. Pictured from left are SMECO representatives Denise Chalmers, senior buyer; Natalie Cotton, community and public affairs director; and Austin J. Slater, Jr., president and CEO. Melwood representatives Cari DeSantis, president and CEO of Melwood Horticultural Training Center, and Walt Gillette, director of development of Melwood Veterans Services, accepted the contribution.
Each year, Southern Maryland Electric Cooperative holds fundraisers and gives the money to a local organization.
This year, the cooperative was able to donate $53,476 to Melwood's Operation: Tohidu because of the money raised during the SMECO 75 Bike Ride in June and the SMECO Annual Charity Golf Outing in October. The events are supported by the SMECO executive team, vendors, and volunteers.
"Many hands make light work, and hosting a fund raising event is no exception," said Richard Jarboe, SMECO supply chain director, describing SMECO's involvement with the golf fundraising event. "Our employees go the extra mile to support local organizations, and we're proud to be able to make such a significant contribution to Operation: Tohidu. With the assistance of our supply chain partners who share in the success of the golf outing, we are able to make a difference in people's lives." SMECO has hosted the golf tournament for 13 years and has been able to donate more than $145,000 to local groups.
Melwood's Operation: Tohidu is a seven-day retreat that enables participants to heal from post-traumatic stress disorder, mid to moderate traumatic brain injury, and other military deployment-related traumas through experiential learning and alternative therapies and interventions. The program focuses on outdoor activities, confidence-building, and group discussion in a positive, relaxed environment using proven techniques for the self-management of stressors, symptoms, and responses.
Operation: Tohidu helps active and veteran members of military service to overcome obstacles to their recovery and become experts in the subject matter.
"We are confident that this program will continue to help a growing population of wounded warriors recover and improve their ability to successfully reintegrate into their families and communities," said Melwood's President and CEO Cari DeSantis.
Operation: Tohidu sessions are scheduled throughout the year at Melwood's Retreat and Recreation Center in Nanjemoy, Maryland.
"Thank you to the SMECO team for their collaborative and generous efforts to help raise funds for this meaningful program. We are truly grateful for their dedication to this vital initiative," Ms. DeSantis said.
SMECO hosted the fifth annual bike ride June 4, 2016. Natalie Cotton, the co-op's community and public affairs director, said, "Our employees invest their time and expertise in making the annual SMECO 75 Bike Ride enjoyable for the people who participate. The fact that we're also able to contribute funds to local organizations is just icing on the cake."
This year, representatives from Melwood attended the event and helped to raise awareness of their organization.
The SMECO 75 Bike Ride is open to the public. Riders can choose from three routes of 29, 47, and 75 miles that start at the co-op's headquarters in Hughesville and go as far as Colton's Point in St. Mary's County.
Cotton said, "The SMECO 75 attracts cyclists from all over the area, and this is a great event for experienced riders or newcomers. We are especially grateful to business partners who participate by donating resources to help make the SMECO 75 Bike Ride a successful fundraiser. Major contributors include Adams, Jenkins and Cheatham, CGI, Cigna Health, Community Bank of the Chesapeake, CW Wright Construction, ICF International, iFactor Consulting, Infor, IP Datasystems, J.M. Tennyson Construction, Morgan Stanley, New River Electrical Corp., Origin, Penn Line, Prudential, and Sensus, and we thank them for their contributions."
The sixth annual bike ride is already being planned for June 3, 2017. Contributions from the co-op in 2017 will go to four different organizations that focus on the environment: American Chestnut Land Trust in Calvert County, Port Tobacco River Conservancy in Charles County, Alice Ferguson Foundation in Prince George's County, and St. Mary's River Watershed Association in St. Mary's County.
Cyclists who want to participate in the SMECO 75 Bike Ride can register online at Active.com beginning Jan. 1, 2017.
To learn more about SMECO please visit their Leader Member Page.