Remembering John Hanson Briscoe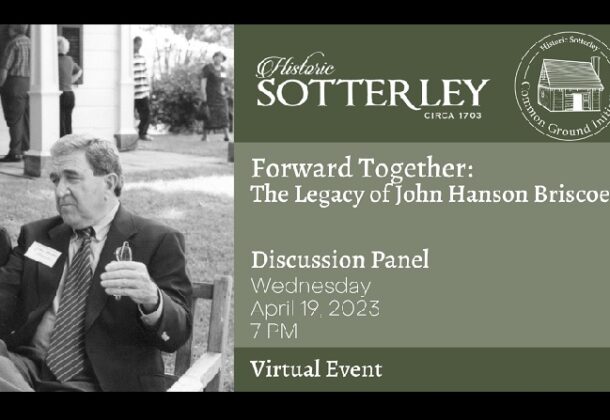 Join Historic Sotterley for a virtual program, "Forward Together: The Legacy of John Hanson Briscoe," at 7pm April 19.
This is the second of two connected events featuring individuals who were transformative in shaping Sotterley, their communities, and the state of Maryland. April was the birth month of Trustee Emeritus John Hanson Briscoe, former Maryland Circuit Court Judge, Maryland Speaker of the House, and staunch advocate for Historic Sotterley.
Th April 19 event will feature a panel to discuss his life, his work, and the impact he had on Sotterley and the community. The panel for the evening will include Jan Briscoe, Sam Baldwin, the Honorable James Kenney, and Michael Whitson. US Sen. Ben Cardin has also been invited to join the event to share his remembrances of the man he knew so well.
John Hanson Briscoe was born April 10, 1934. In his lifetime as a St. Mary's County resident, he served as a member and speaker of the House of Delegates and county administrative judge, and served on many county, state, and national commissions and boards for the betterment of our communities and their citizens.
He always advocated the need to remember the past with historical preservation, to protect and conserve natural resources and environment, and was instrumental in the passage of state civil rights laws. In his time on the Historic Sotterley Board of Trustees, he advocated strongly for the preservation of Sotterley so that it could continue to share its history with the world.
Mr. Briscoe worked closely with Agnes Kane Callum, who was honored in part one of the series in February, and their friendship and mutual respect laid the foundation for Historic Sotterley's Descendants Project. Together this extraordinary pair created a powerful duo who helped to save Sotterley, but just as importantly, worked to ensure that the site tells an inclusive and honest history.
The registration link is available here.