RADM Rock Will Give Pax River Updates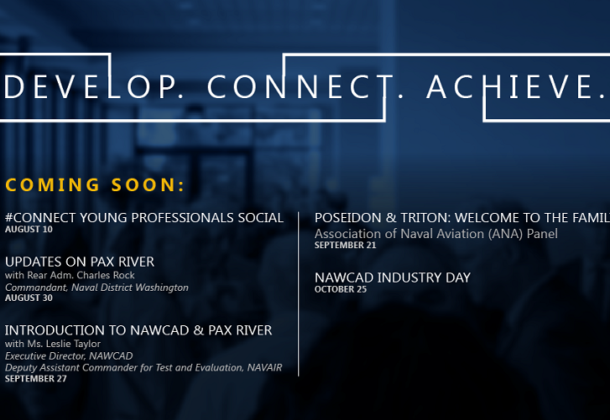 The Patuxent Partnership will host an Updates on Patuxent River briefing by RADM Charles Rock, Commandant of Naval District Washington, from 8 to 9:30 am Wednesday, Aug. 30, 2017, at the Southern Maryland Higher Education Center in Center Hall, Building 2 at 44219 Airport Road in California, Maryland.
RADM Rock will discuss topics of interest to the Pax River and surrounding communities:
NAS Patuxent River as a critical asset in the present and future of naval aviation
The importance of community relations
Navy budgeting challenges and eyeing a firm foundation for solid growth
Military construction and sustainment, as shrinking budgets require project prioritization
Check-in and coffee will begin at 7:30 a.m. Advanced registration is requested to manage catering and seating. There is no cost for the program. Register here.
Other Upcoming Events
Keep an eye for details and registration information for these events:
Poseidon & Triton: Welcome to the Family
Association of Naval Aviation Panel
5 to 7 pm Sept. 21 at the Bay District Volunteer Fire Department Social Hall in Lexington Park. $10 in advance or $15 at the door. Click here to register.
Keynote speaker and moderator will be RADM Trey Wheeler, Commander, Patrol Reconnaissance Group in Norfolk. Panelists will be:
Sean Burke, Major Program Manager, Persistent Maritime Unmanned Aircraft Systems (MQ-4C Triton), PMA-262
Angie Knappenberger, SES, Deputy Director of Air Warfare (OPNAV N98B), Pentagon
Capt. Tony Rossi, Major Program Manager, Maritime Patrol & Reconnaissance Aircraft (P-3/P-8), PMA-290
RADM Paul Sohl (invited), Commander, Operational Test & Evaluation Force (COMOPTEVFOR)
Introduction to NAWCAD & Patuxent River
With Leslie Taylor Executive Director, NAWCAD; Deputy Assistant Commander for Test and Evaluation, NAVAIR Wednesday, Sept. 27, 8 to 9:30 am at the University of Mary Washington in Dahlgren. Coffee and check-in will begin at 7:30 am. Click here to register.
NAWCAD Industry Day
Wednesday, Oct. 25, 2017, at the Southern Maryland Higher Education Center in California. Starts at 8 am.
TPP Annual Meeting
Oct. 31. Click here to register.
The Arctic Domain & National Security
Patuxent Defense Forum
Dec. 12
About The Patuxent Partnership
TPP fosters collaboration and the sharing of knowledge and expertise across a diverse network that includes government, industry, and academia. The Partnership also supports STEM education and workforce development within the local community including hosting programs of interest to NAVAIR, NAWCAD, and the broader DoD community.
To learn more about The Patuxent Partnership and its programs, visit its Leader member page.