Poseidon Test Lab Online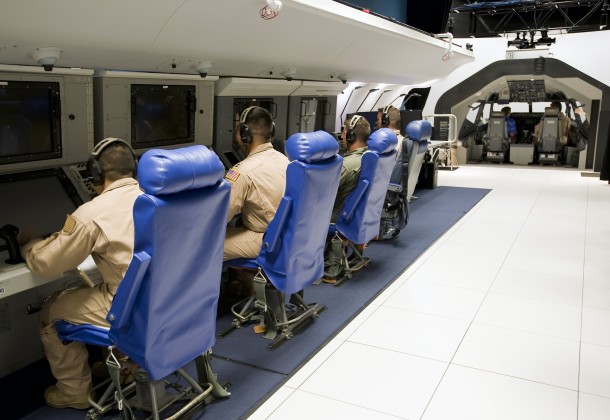 By PMA-290 Public Affairs
The Patuxent Systems Integration Laboratory (PaxSIL) completed final installation and inspections, and is operating at full capacity.
The lab is designed to save the Navy money while developing and testing the Maritime Patrol & Reconnaissance Aircraft Program Office's (PMA-290) P-8A Poseidon. PMA-290 maintains the PaxSIL as a tool to support flight testing and mission system maturity. Specifically, the lab houses flight hardware to test the integration of systems on board the P-8A Poseidon.
"Using actual aircraft components located inside a building for integration testing has allowed the P-8A program to reduce the scope of the flight test effort and save fatigue life on the test aircraft," said Tony Schmidt, assistant program manager for Test and Evaluation.
Inside the lab, P-8A Integrated Test Team members will be able to rehearse test points, test net-ready capability, troubleshoot mission systems, and replay tactical missions.
Additionally, the PaxSIL will aid in training future P-8A pilots and tacticians by offering them a way to realistically evaluate unique aircraft characteristics, such as the combined use of autopilot and the integrated systems, without ever leaving the ground.
"The PaxSIL will provide considerable support to the current developmental test efforts, Initial Operational Test and Evaluation of the P-8A, and for future test and experimentation efforts," said Neal Rothback, P-8A deputy department head.
According to Schmidt, who has seen the PaxSIL through from concept to completion, the lab was built in a record nine months time thanks in part to the support of facilities management.
In the future, the PaxSIL will house a network of capabilities in support of the Maritime Patrol and Reconnaissance Force Family of Systems and provide the ability to connect to other Department of Defense facilities.
"The PaxSIL was designed to grow with the P-8A program, through Increments and follow-on capability," said Rothback. "It will provide significant savings to the Navy over the life of the program."