New US Challenge: Dealing With N. Korea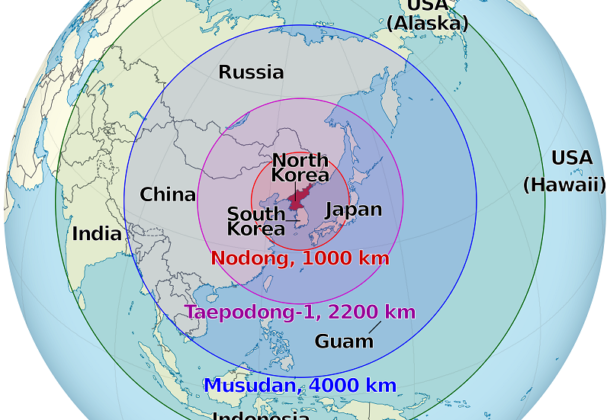 Morning Coffee is a robust blend of links to news around the Internet concerning the Naval Air Station Patuxent River

economic community. The opinions expressed here do not reflect opinions of the Leader's owners or staff.
North Korea conducted its fifth and biggest nuclear test Friday and said it had mastered the ability to mount a warhead on a ballistic missile, MSN reports. The blast, on the 68th anniversary of North Korea's founding, was more powerful than the bomb dropped on Hiroshima, according to some estimates. The US and China have condemned the action.
The Washington Post reports that North Korea's nuclear test Friday was the biggest recorded detonation since the country began testing underground in 2006. Analysts say this is a key step toward developing a missile capable of reaching the US mainland. North Korea said Sunday a push for further sanctions following the latest and biggest nuclear test was "laughable," and vowed to continue to strengthen its nuclear power, Reuters reports.
The Navy has been conducting a series of carrier-based developmental tests of the F-35C Lightning II Joint Strike Fighter carrier variant. Aviation Photography Digest visited the USS George Washington to observe the tests.
The Navy also tested interoperability of an aircraft carrier strike group's combat systems with surface and air assets during a demonstration at the cybernetic laboratory, USS Dahlgren, naval-technology.com reports. "This demonstration integrated capabilities across multiple laboratories, utilizing unmanned and manned sensor platforms, engaging a hostile swarm threat of surface craft attacking a virtual naval battlegroup consisting of a Nimitz-class aircraft carrier, an Aegis class cruiser and an Independence-class littoral combat ship," Naval Surface Warfare Center Dahlgren Division combat control scientist Neil Baron said.
Navy sailors from the USS Gerald R. Ford pre-commissioning unit have completed the Advanced Arresting Gear operator and maintainer initial training program, ExecutiveGov reports.
The Washington Post reports that one of the most amazing pieces of technology to emerge from Lockheed Martin is a circular canister designed to hold nothing more that dirt, gravel, and maybe some dust. And that debris is in space, and actually on an asteroid that scientists have had their eyes on for quite some time. That canister is expected to be launched on a United Launch Alliance rocket and will be headed on a 509-million-mile journey to the rock that it would touch for less than five seconds in an effort to extract NASA's first-ever asteroid sample.
Alaska could be the home of the world's first modern cargo airship once the aircraft rolls off Lockheed Martin's assembly line in 2019, Alaska Dispatch News reports. The deal involves an Anchorage logistics company that hopes to use the helium-filled airship to haul freight and workers to remote sites. The blimp-like airship will support remote Alaska resource projects.
Last week's Commander-in-Chief Forum, which aired nationally on TV, provided the first chance for the major party candidates Hillary Clinton and Donald Trump to present their cases to voters. It might have been the highest profile military- and veterans-themed election event in American political history, Military Times reports. Speaking at the Union League of Philadelphia last week, Trump said he intended to end the defense sequester and increase military spending, Jewish Political News & Updates reports. Trump said he would use that increased spending to fund a 540,000-member Army, up from its current 475,000 members. He also promised 36 Marine battalions, 350 Navy ships, and 1,200 fighter jets.
The Pentagon's research agency has a new challenge for scientists: make wireless radios with artificial intelligence that can figure out the most effective, efficient way to use the radio frequency spectrum, Defense News reports.
Multiple investigations into the death of a Muslim military recruit at the USMC Parris Island training center have uncovered a troubling pattern of mistreatment, and officials are responding with a series of policy changes designed to improve accountability and prevent future missteps, Marine Corps Times reports.
Contracts:
BAE Systems, Rockville, Maryland, was awarded a $16,500,000 modification (P00002) to contract W911QY-14-D-0023 for automated installation entry systems.  Funding and work location will be determined with each order.  The estimated completion date is Aug. 9, 2018.  Army Contracting Command, Natick, Massachusetts, is the contracting activity.
Oceaneering International Inc., Chesapeake, Virginia (N65540-13-D-0003); and General Dynamics Electric Boat Corp., Groton, Connecticut (N65540-15-D-0005), are each being awarded a cost-plus-fixed-fee modification to previously awarded contracts to exercise the fourth-year options. The increased contract dollar value for option year four for both contracts is as follows:  Oceaneering International Inc. (N65540-13-D-0003/Modification P00013) — $38,097,870; and General Dynamics Electric Boat Corp. (N65540-15-D-0005/Modification P00007) — $48,478,009.   Invocation of the final option is to provide continuing engineering and technical services in support of the submarine safety program, and Level I material work onboard SSN 21 class (Seawolf class), SSN 688 class (Los Angeles class), SSBN/SSGN 726 class (Ohio class), SSN 774 Class (Virginia class) submarines, and foreign national submarines. This contract provides technical management, administrative and technical services, materials, tools, equipment, facilities, and required support to accomplish installation, troubleshooting, repair and maintenance of main and auxiliary, weapons, hull, mechanical, and electrical equipment. Work will be performed at naval shipyards in Norfolk, Virginia; Puget Sound, Washington; and Pearl Harbor, Hawaii, and is expected to be completed by February 2018. No funds are guaranteed by the award of this modification contract; this contracting action merely establishes a potential ceiling value.  Funds are obligated on individual delivery orders for efforts that fall within the core competency areas. The Naval Surface Warfare Center, Philadelphia Division, Philadelphia, Pennsylvania, is the contracting activity.
Northrup Grumman System Corp., Woodland Hills, California, is being awarded $18,264,420 for firm-fixed-price delivery order 3000 against a previously issued basic ordering agreement (N00019-15-G-0026) for the procurement of tech refresh mission computers and trays in support of Lot 13 AH-1Z and UH-1Y aircraft for the Navy (67 percent); and the government of Pakistan (33 percent) under the Foreign Military Sales program. Work will be performed at Baltimore, Maryland (42 percent); Salt Lake City, Utah (38 percent); and Woodland Hills, California (20 percent), and is expected to be completed in December 2018. Fiscal 2016 aircraft procurement (Navy) funds and foreign military sales funds in the amount of $18,264,420 will be obligated at time of award, none of which will expire at the end of the current fiscal year. The Naval Air Systems Command, Patuxent River, Maryland, is the contracting activity.
Atlantic CommTech Corp. (ACT-Corp), Norfolk, Virginia, has been awarded a $36,460,575 firm-fixed price with cost reimbursable travel contract line items contract for a sustainment effort to modernize the Weapon Storage and Security System (WS3) and Alarm Communication and Display (AC&D). This contract provides for sustainment upgrades to the WS3 cryptographic system used to encrypt WS3 alarm data, and will perform an AC&D system upgrade by replacing obsolete components and the buried cable. The locations of performance are Ramstein Air Base (AB), Germany; Aviano AB, Italy; Buechel AB, Germany; Ghedi AB, Italy; Incirlik AB, Turkey; Kleine Brogel AB, Belgium; and Volkel AB, Netherlands. The work is expected to be completed by Oct. 22, 2020. This award is a result of a competitive small business set-aside with three offers received. Fiscal 2016 other procurement in the amount of $7,159,114 are being obligated at the time of award. The Air Force Nuclear Weapons Center, Kirtland Air Force Base, New Mexico, is the contracting activity (FA9422-16-C-8041).