Naval Aviators Honor Past, Look to Future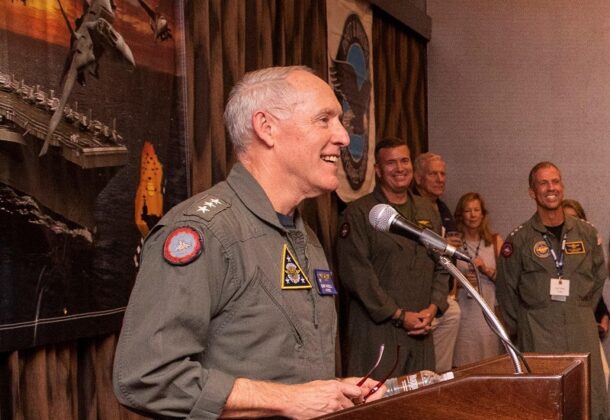 VADM Kenneth Whitesell speaks at the Naval Aviation Enterprise Update to Industry Partners alongside Marine Corps Deputy Commandant for Aviation LT GEN Michael Cederholm, back left, and VADM Carl Chebi, Commander, Naval Air Systems Command, during Tailhook 2023. (US Navy photo by Chief Mass Communication Specialist Chelsea Milburn)
Vietnam, Iraq Experiences Shape How Naval Aviation Will Fight Next
The Tailhook Association's 2023 symposium — Hook '23 — took place August 24 – 26, 2023, ending with a banquet keynoted by the ADM John Aquilino, commander of US Indo-Pacific Command, and VADM Kenneth Whitesell, commander, Naval Air Forces.
The three-day event featured dialogue from across carrier aviation, providing opportunities for naval aviators to honor their past as well as to discuss the requirements for current readiness and the future force.
As senior leaders and senior naval aviators, ADM Aquilino and VADM Whitesell participated in multiple events throughout the three-day symposium, listening to the needs of the fleet and sharing with them high-level perspectives.
ADM Aquilino emphasized that naval aviation members have to "be ready … We are doing everything, every day, to prevent conflict. That's what we do." He added that a war in the Pacific would be detrimental to every nation on earth. The United States doesn't want that but would win if necessary.
"The integrated joint force of the United States is not something you're ready to take on today, tomorrow, or any day," he said.
The camaraderie and unmatched abilities of naval aviation were common threads throughout Hook '23.
"It is up to us, every person in this room, to make the Navy and naval aviation an elite culture that America's brightest, toughest and most innovative youth choose to join … it relies on us to maintain the mindset of duty, preparedness and sacrifice–a culture evidenced in past heroes, who have truly set the example," VADM Whitesell said.
This year's theme focused on Operation Iraqi Freedom, with two panels exploring how naval aviation has progressed in the two decades since that conflict began, the lessons learned from those who flew operations and how the experiences of that generation form the new generation of warfighters. One panel featured speakers who were junior officers during the conflict while the other featured senior leaders from the conflict.
Naval aviation played a pivotal role in OIF's success and in supporting joint and coalition forces on the ground.
"There's a constant steady push for integration across the force from seabed to space," said CAPT Michael "Snap" Langbehn, Naval Air Warfare Development Center, deputy commanding officer. Operating from aircraft carriers and amphibious assault ships, pilots and aircrew provided crucial air support, reconnaissance and strike capabilities that significantly contributed to the campaign's achievements.
For many of the people involved in OIF, the confidence in them to execute combat operations safely showcased the level of training and skill needed to be an immediate asset.
"There was an amazing amount of trust that was put into us; we went from flight school to flying combat missions in a short amount of time," said CAPT Brad "Keds" Converse, Commander of Carrier Air Wing One.
During an emotionally powerful panel, four Vietnam prisoners of war shared stories and lessons from captivity. In a large ballroom filled to standing room only, attendees listened to the compelling narratives of CAPT Rod Knutson, CAPT Irv Williams, Dave Everett, and CAPT Jack Ensch as they described how they endured as POWs in the infamous Hanoi Hilton and came back to live meaningful, productive lives of contribution.
"We didn't stop fighting when we were captured," CAPT Williams said. "We were proud to serve. We are proud of this country."
Another cornerstone of the symposium was the Aviation Flag Panel. In addition to ADM Aquilino and VADM Whitesell, panelists were US Marine Corps Deputy Commandant for Aviation LT GEN Michael Cederholm; Commander, Naval Air Systems Command (NAVAIR), VADM Carl Chebi; Commander, Naval Air Force Atlantic, RADM Douglas Verissimo; the Navy's N98, RDML Michael Donnelly; Deputy Chief of Naval Personnel, RADM Michael Baze; and Chief of Naval Air Training, RADM Richard Brophy. They answered questions from the crowd and provided updates to a number of projects and initiatives.
RDML Donnelly spoke about how carriers are a lynchpin in naval aviation. The ability to get the carriers in the new Ford-class delivered on-time is essential, and the Navy is working closely with industry to optimize the process.
Other topics touched included the Air Wing of the Future including the incorporation of the F-35 Joint Strike Fighter, an improved pipeline for new students training to be naval aviators and the continued press for improving quality of life/quality of service.
VADM Chebi encouraged aviators to come to his command, NAVAIR, as part of the test community. They need the best and the brightest, he said, to test the future capabilities of naval aviation.
Other programming from the symposium included panels about resourcing, the Naval Safety Command, careers and industry as well as a winging ceremony in which several new aviators pinned on their wings of gold – a meaningful experience for everyone in the community.
For additional information from Hook '23, follow the Naval Aviation Enterprise on LinkedIn.
The Naval Aviation Enterprise is a collaborative warfighting partnership where naval aviation leaders leverage their assigned authorities to deliberate and resolve interdependent issues across the whole of naval aviation to provide combat-ready naval air forces to the fleet.
This article was provided by NAVAIR News.