Naval Aviation Is Topic at Cleared for Takeoff Event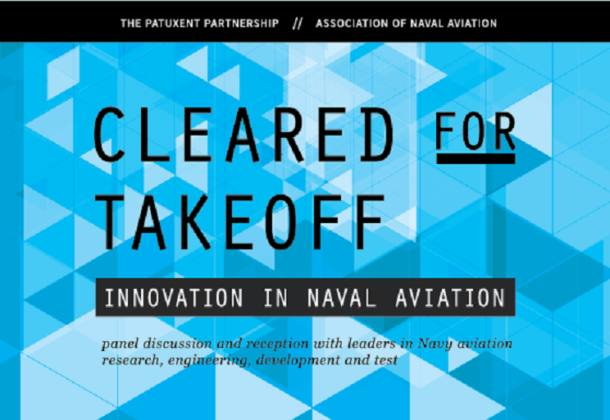 Cleared for Takeoff: Innovation in Naval Aviation will be the topic at The Patuxent Partnership and Association of Naval Aviation Pax River Squadron 18 reception and discussion with a panel of leaders, experts, and decision-makers.
The event will be held from 5 to 7 pm Thursday, April 26, 2018, at the Patuxent River Naval Air Museum on Route 235 in Lexington Park. Cost is $15 when paid before noon April 25 and $25 for registrations and payment received at the door. Click here to register.
Acquisition workforce attendees earn two CL points.
Unfortunately, the groups will be unable to issue refunds. Proceeds after expenses support the Association of Naval Aviation's Squadron 18 annual STEM scholarship fund and other STEM programs and initiatives in Southern Maryland.
This program is part of a quarterly series of evening panel discussions on topics of interest to the defense aviation community, produced by The Patuxent Partnership and the Association for Naval Aviation Squadron 18.
RADM Scott D. Conn will be the moderator and keynote speaker. He is the director for air warfare with the Office of the Chief of Naval Operations (OPNAV N98).
Panelists will be William Bray, SES, Deputy Assistant Secretary of the Navy for Research, Development, Test and Evaluation; and Edward Wolski, SES, Deputy Director for Air Warfare, Office of the Under Secretary of Defense (Acquisition, Technology and Logistics).
Schedule for the Cleared for Takeoff evening is 5 pm hors d'oeuvres and libations, 5:30 pm panel begins, and conclusion at 7 pm.
Northrup Grumman is the inaugural sponsor of the TPP-ANA panels.
About The Patuxent Partnership
TPP fosters collaboration and the sharing of knowledge and expertise across a diverse network that includes government, industry, and academia. TPP also supports STEM education and workforce development within the local community including hosting programs of interest to NAVAIR, NAWCAD, and the broader DoD community.
To learn more about The Patuxent Partnership and its programs, visit its Leader member page.