Lexington Park Re-Discovered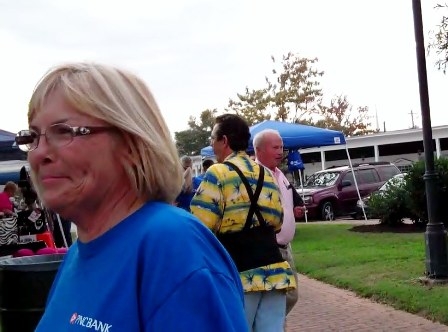 Posted by
Lexington Park Business & Community Association
Bay Leader
Mixing Bowl
Choose Local
For a return engagement, PNC Bank teamed up with the Lexington Park civic association to bring a street fair of local businesses and eateries to Freedom Park in Lexington Park, Maryland last month.
The impetus for an evening street festival in Lexington Park came a year ago at the prodding of Yaling Pan, co-owner of the Mixing Bowl, as a way to fight the misconception she heard expressed by her lunch-time customers that Lexington Park was unsafe in the evening.
PNC Bank picked up the challenge and again this year PNC's Barbara Saylor led the effort.
[youtube=http://www.youtube.com/watch?v=awjp7XaMmMI]
NeNa's Oriental Market and Carryout (of the famous lumpia), Ms. Pan's Mixing Bowl and Linda's Cafe provided free food to a few hundred visitors. Local businesses set up in the park offering everything from  hair cuts to conversation with Dracula, one of the strolling members of the Newtowne Players who were that week staging "Dracula" at the Three Notch Theatre also located at Freedom Park in Lexington Park, MD.
Also strolling were members of Lexington Park's new COP police officers, some freshly returned from mountain bike training. With off-road transport and skill the unit expects to eliminate even more of the nuisance crime that plagues segments of Lexington Park. Crime reduction measurements after their first full month of operation were dramatic and welcomed at last month's civic association meeting.
The next Lexington Park Business and Community Association meets the second Wednesday of the month. Additional information is available at 301-863-7700.
LPBCA sponsored by:
[adrotate group="13″]