Hospital Gala Raises Nearly $135,000 for Scholarships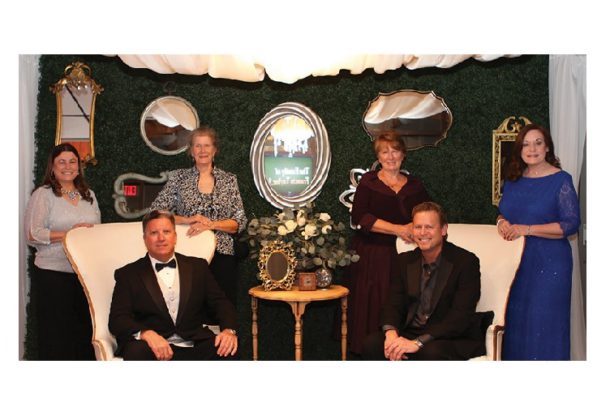 Members of the Philanthropy Committee of the MedStar St. Mary's Hospital Board of Directors at the 2018 Gala, from left, are Beverly Wood, Vince Whittles, Lea Weaver, Karen Garner, Rick Tepel, and Christine Wray, hospital president. Photo Courtesy of MedStar St. Mary's Hospital
The MedStar St. Mary's Hospital 2018 Gala offered guests a magical evening down the rabbit hole inspired by "Alice in Wonderland."
Sponsored by the hospital and the family of Francis Taylor Sr., the black-tie affair Nov. 16 at the Hollywood Social Hall featured a gourmet dinner and dessert by Ken's Creative Kitchen of Annapolis with live entertainment by Paradigm. The hall was transformed into a whimsical experience for more than 500 guests.
Nearly $135,000 was raised in net proceeds to help fund scholarships through MedStar St. Mary's Hospital.
To date, 149 scholarships have been awarded to local students pursuing health care careers in return for their commitment to bringing their expertise back to the Leonardtown facility.
Chances were sold to win one of two necklaces and an accompanying gentleman's gift, courtesy of G&H Jewelers. Micheline Lopez-Estrada held the winning number and selected a stunning gemstone and diamond pendant as her prize.
MedStar St. Mary's Hospital would like to acknowledge this year's contributors, especially the Taylor family, this year's Presenting Sponsor ($25,000).
The hospital also thanks and acknowledges:
Premiere Sponsors ($15,000):
Associates in Radiation Medicine
G&H Jewelers
Pam & Dave Jamieson
MedStar Shah Medical Group
The Cherry Cove Group
Christine Wray & John Felicitas
Diamond Sponsors ($10,000):
AMEWAS Inc.
Servpro of St. Mary's & Calvert
St. Mary's Academy Class of '72
US Acute Care Solutions
Platinum Sponsors ($6,000):
Anna Choi, MD & Richard Ferraro
Jayaraman Medical Associates LLC
Karen & Stephen Michaels
ManTech International Corporation
Gold Sponsors ($4,000):
KBRwyle
Parlett Affiliated Companies
Printing Press Inc.
Raley Watts & O'Neill
Something Special by Tracy
W.M. Davis Inc. General Contractors
Silver Sponsors ($2,500):
ASEC Inc.
C3 Innovations Inc.
Calvert Cliffs Nuclear Power Plant
CMI General Contractors
College of Southern Maryland
CRGA Design
DCS Corporation
Fotheringill & Wade LLC
Carrie Jennison & John Stenson
Old Line Bank
Sabre Systems Inc.
Southern Maryland Electric Cooperative
St. Mary's College of Maryland
Taylor Gas Company Inc.
Bronze Sponsors ($850):
Bank of America
Community Bank of the Chesapeake
John P. Crine, In Memory of Thelma Jean Crine
Dean Lumber Supply
Edward Jones
Kristine & John Greely
J.F. Taylor Inc.
KIWI-TECH
Joan & Alfred Mattingly Sr.
Midoula & Axis Healthcare Groups
Carol & Bill Moody
PAE Applied Technologies LLC
Parran's Flooring Center
Kathy & Chris Perlick
Phocus Vide0
PNC Bank
Dr. & Mrs. Yahia Tagouri
Dawn & Nick Yeitrakis
Save the date for next year's gala on Nov. 15, 2019! Visit Facebook.com/MedStarStMarys to view more event photos.
For more information and one-click access to a full list of resources available at MedStar St. Mary's Hospital, visit its Leader member page.