Green Hornet Team Gets Navy Secretary's Honor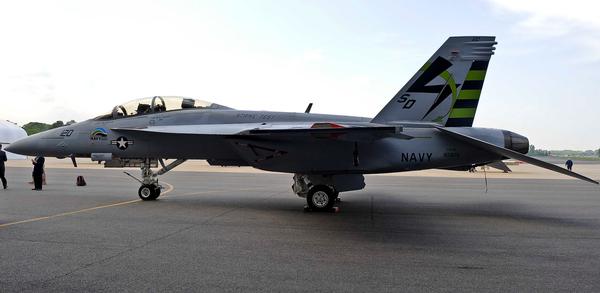 Building on its previous 2011 award from the chief of naval operations, the secretary of the Navy recently honored NAVAIR's Green Hornet team for balancing its operational mission while protecting the environment.
Announced March 12, the F/A-18 and EA-18G Program Office (PMA-265), which manages the Green Hornet team, won the fiscal 2011 Secretary of the Navy (SECNAV) Environmental Award in the Weapon System Acquisition Team category.
The award comes as Rep. Randy Forbes is increasingly scrutinizing the Navy's efforts to use alternative fuel to power vehicles and installations – expressing doubt about the $1 billion being spent on the initiative and questioning whether greening the fleet is something the Navy can accomplish.
The SECNAV award recognizes Navy and Marine Corps individuals, teams, ships and installations for exceptional environmental stewardship. The Green Hornet team will now compete for the Secretary of Defense environmental award. This is the team's second consecutive SECNAV environmental award and sixth straight Chief of Naval Operations (CNO) Environmental Award.
An awards ceremony recognizing the CNO and SECNAV winners is scheduled June 5 in the Heritage Center at the U.S. Navy Memorial in Washington, D.C.
An F/A-18F dubbed the "Green Hornet" successfully flight-tested a 50/50 blend of camelina-based fuel and conventional based JP-5 jet fuel on Earth Day in April 2010 at Naval Air Station Patuxent River.
And Mabus jetted down to Pax River in Sept. 2011 to announce that the Navy's air demonstration team, the Blue Angels, would be flying their F/A-18 Hornets on a mixture of petroleum jet fuel and camelina-based biofuel oil during the Pax River Air Expo event:
[youtube=http://www.youtube.com/watch?v=6SFCLoUKeYg]