Future Battlefield: Soldiers Plus Autonomous Support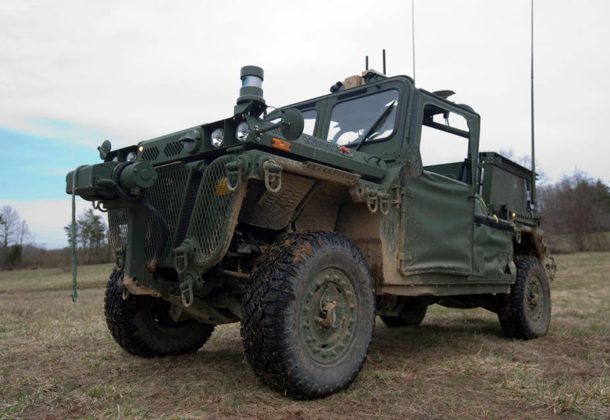 Morning Coffee is a robust blend of links to news around the Internet concerning the Naval Air Station Patuxent River

economic community. The opinions expressed here do not reflect opinions of the Leader's owners or staff.
Future soldiers may enter a battlefield alongside autonomous fighting vehicles on the ground and a "ghost fleet" of unmanned ships at sea, as swarms of miniature drones buzz overhead, reports Army Times. The challenge for this to happen is how the military acquires and implements new gear.
Philippine President Duterte says President Donald Trump knew of his controversial war on drugs, but praised him for doing a "great job" and invited him to visit the White House, Reuters reports. The White House defended the invitation, acknowledging that though human rights were an important issue, Washington needs allies in Asia to address the global threat of North Korea's development of nuclear weapons.
More than 100 days into the Trump presidency, no American Navy ship has gone within 12 miles of any of the disputed islands in the South China Sea, Defense Department officials said, reports The New York Times.
Fox News has photos of the Massive Ordnance Air Blast (MOAB) bomb site in Afghanistan, taken less than two weeks after the strategically targeted explosion to destroy ISIS fighters and their underground tunnels.
The US is negotiating with China on a stronger UN response to North Korea missile launches — such as sanctions, reports Reuters. It was not immediately clear how open Beijing might be to new sanctions, the first being imposed on North Korea in 2006.
Military Times says witnesses report one of the Mosul houses hit by a deadly US air strike was filled with civilians, no ISIS  fighters. More than 100 civilians were killed in the March air srike.
Dolphins are training with the Navy in Key West to find and drop a transponder on mines, reports Navy Times. The dolphins are part of the Navy's San Diego-based marine mammal program and out on the East Coast to train in different waters and underwater terrains.
Boeing pulls Harpoon from Navy missile competition, reports Defense News, leaving the Raytheon/Kongsberg Naval Strike Missile (NSM) and Lockheed Martin Long Range Anti-Ship Missile (LRASM) as the likely candidates in the over-the-horizon (OTH) cruise missile for littoral combat ships (LCS) and frigates effort.
Politico notes President Trump has the nuclear codes near him at all times, and details the airborne command center if the nuclear war broke out: the President's secret Air Force, flying war rooms.
Congress remains tied up in knots over how to fulfill one of its biggest promises, reports Politico. There is no good GOP options if Obamacare repeal fails.