Flat Iron Farm Presents Bluegrass for Hospice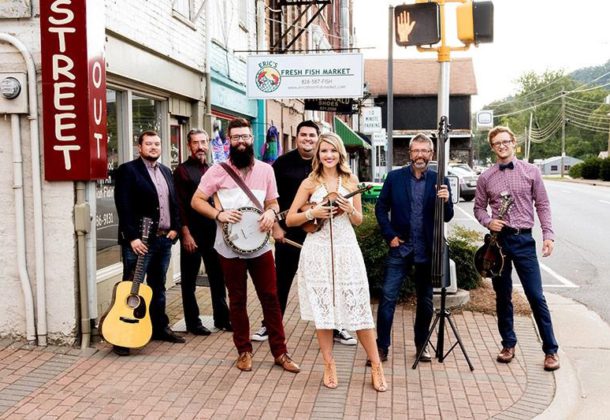 Mountain Faith Band of 'America's Got Talent' to Perform Oct. 22 @ Bluegrass for Hospice
The annual Bluegrass for Hospice will take place Saturday, Oct. 22, 2016, at Flat Iron Farm in Great Mills, MD.
Starting at noon, the family event will feature a full day of fun with music, raffles, silent auction, and door prizes.  Mountain Faith Band that appeared on "American's Got Talent" in 2015 and made it to the semifinals will headline the event along with bluegrass greats, The Larry Stephenson Band of Nashville, TN, and other local talent.
Presented by Jay and Michelle Armsworthy, Bluegrass for Hospice, in its eighth year, benefits the Hospice of St. Mary's Hospice House. Tickets can be purchased online here.
Mountain Faith is a family band from western North Carolina that plays bluegrass/Americana-roots music. Since 2000, the Mountain Faith Band has performed its unique brand of music to audiences from coast to coast at fairs, festivals, colleges, universities, performing arts centers, corporate events, and churches.
What makes them an appropriate fit for Bluegrass for Hospice, is that their humility, kindness, and love of community shines through on stage and casual conversation. Visiting hospitals to bring joy and entertainment to those who could use a lift is something the Mountain Faith Band loves to do. When their tour schedule allows, you might find the Mountain Faith Band performing a prepared program to promote literacy and character education at elementary and high schools along their route. Above all else, the Mountain Faith Band is thankful for the opportunities God has provided them through music.
There 2015 highlight was performing for over 3,000 military men and women at Al Udeid AFB in Doha Qatar.  Thus far in 2016, Mountain Faith Band has shared the stage with legends Willie Nelson, Charlie Daniels, and Loretta Lynn to name a few. On Sept. 16, 2016, The Grand Ole Opry stage lit up with the debut of the Mountain Faith Band. They have performed the national anthem for the Atlanta Falcons, Carolina Panthers, Atlanta Braves, SF 49ers, plus halftime shows for the Atlanta Falcons and Carolina Panthers.  The group's latest album, "That Which Matters," debuted No. 1 on Billboard Americana-Roots Charts. MFB has celebrated multiple No. 1 songs over their career.
For 2016, the Mountain Faith Band has been nominated as Emerging Artist of the Year by the IBMA. Summer McMahan, vocalist for MFB, was the 2015 Momentum Vocalist of the Year presented by IBMA. With the support of millions, MFB advanced to the 2015 semifinals of "America's Got Talent" and has since accumulated more than 36,000 Facebook friends.
The Larry Stephenson Band has roots near Southern Maryland. From just across the Potomac River in King George, VA, Mr. Stephenson now making his home in Nashville, he is highly regarded as one of bluegrass music's finest high lead and tenor vocalist.
Larry started playing with his Dad beginning in the mid '70s, started on the mandolin at age 5. By the age of 13, Larry had cut this first record. He credits the rich music scene of Virginia for much of his musical success, having seen and heard the first generation bluegrass performers at festivals, shows, and on the radio. One of his childhood performances with his Dad's band was at one of the Take It Easy Ranch music festivals in Callaway, MD, that was held in the early 1970s.
After high school graduation, he worked and recorded with Cliff Waldron and Leon Morris while soaking up the Washington, DC, musical scene, which included cutting-edge bands like The Country Gentlemen and The Seldom Scene as well as traditional bluegrass and old-time music. In 1979, Larry began touring and recording with Bill Harrell & the Virginians where he stayed over four years. In 1983, he joined the famed Bluegrass Cardinals performing and recording with them for over five years. That band configuration is often referred to as one of the "classic lineups of the Bluegrass Cardinals."
The award-winning Larry Stephenson Band has been entertaining audiences for more than 25 years including their numerous performances on the Grand Ole Opry, RFD-TV and many more headlining concerts. Larry Stephenson is a Virginia Country Music Hall of Famer and five-time SPBGMA Male Vocalist of the Year.  The band has received critical acclaim for its numerous bluegrass albums over the years and continues that success with the latest album, "Pull Your Savior In," an all-gospel project and winner of the 2015 SPBGMA Album of the Year Award.  Larry is joined by the talents of Kenny Ingram, Kevin Richardson, and Matt Wright.
Other bluegrass talent will feature local favorites Recycled Bluegrass, 15 Strings, Bubby Abell & Spoon Creek, and Bluegrass Gospel Express.  There also will be a special Bottom County Bluegrass tribute to Charlie Thompson, with this year's event in his memory as well as longtime patron Jay Russell. Troy Jones will provide sound for the day's event.
There will be many door prizes given away, 50/50 raffles, silent auctions, and various vendors. Food will be available for sale by the 3rd District Optimist Kruzin' Kafe and will feature Southern Maryland-style cooking at affordable prices. Bring your lawn chairs and BYOB. The event will be held inside a handicap-accessible, arena-style barn with outdoor bathroom facilities. The doors open at 11 am, and the festivities begin at noon.
In addition to all of the great entertainment, there will also be a food drive requesting non-perishable food items to support the Helping Hands food pantry of Southern Maryland. Everyone is encouraged to bring, but it's not required to enter the event.
For out-of-town guests, accommodations can be provided by the Holiday Inn Express at 45260 Abell House Lane in California, MD. Ask for the "Southern Maryland Bluegrass Festival discount hotel rate" to receive a special rate.
Tickets for Bluegrass for Hospice-2016 can be purchased in advance for $25 and will be $30 at the gate. Children younger than 12 are admitted free with a paid adult. You can purchase tickets by sending a self-addressed stamped envelope along with a check made payable to Hospice of St. Mary's to P.O. Box 741, California, MD 20619. To order by credit card online from Brown Paper Tickets go to http://www.brownpapertickets.com/event/2564164.  If you'd like to purchase them in person, they are available at The Trading Post on the corner of Route 5 and Indian Bridge Road in Great Mills, MD.
Vendor applications are now being accepted for the event. For more information, to be a sponsor, or to reserve a vendor space, contact Jay Armsworthy at 301-737-3004.