Digital Integration Is Topic of Panel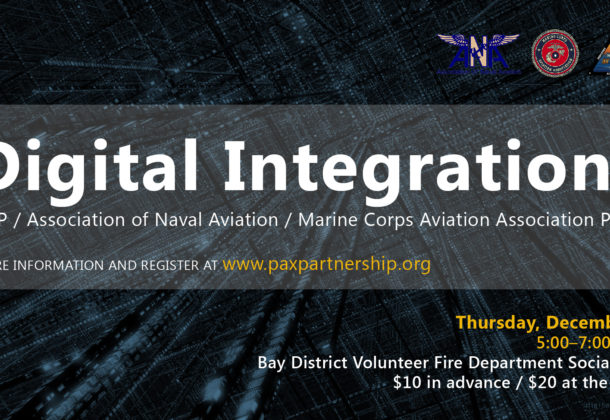 Learn about the ins and outs of digital integration in the US military during an event Dec. 7, 2017, in Lexington Park. "NAVAIR Digital Integration" will be hosted by The Patuxent Partnership, the Association of Naval Aviation's Squadron #18, and the John Glenn Squadron of the Marine Corps Aviation Association.
Starting at 5 pm at the Bay District Volunteer Fire Department Social Hall at 46900 S. Shangri La Drive, this event includes speakers and panelists who are experts on the topic of digital integration, which is the process by which computers and technology are made to work together across formats.
Members of The Patuxent Partnership and partner hosts, as well as the business community, the public, and base personnel are all invited to participate.
The keynote speaker and moderator for the event is Vice Adm. Paul A. Grosklags, Commander, from NAVAIR. Panelists include Todd Balazs, SES, Digital Integration Officer, from NAVAIR; David Cohen, SES, Director, Systems Engineering Department (AIR-4.1), NAWCAD; Stephen Cricchi, SES, Assistant Commander, Corporate Operations and Total Force (AIR-7.0), NAVAIR; and Brig. Gen. Greg Masiello, Naval Air Systems Command assistant commander for Logistics and Industrial Operations (Air-6.0), NAVAIR, has been invited.
Click here for more information.
Dress for the event is business casual or the military uniform of the day. Acquisition workforce attendees can earn 2 CL points and should be logged manually into eDACM.
Cost to attend is $10 and must be paid by noon Wednesday, Dec. 6, by credit card on the website or by cash or check delivered or mailed to The Patuxent Partnership, 22335 Exploration Drive, Suite 1035, Lexington Park, MD 20653.
Online advance registrations that are not accompanied by payment will be $20. Registrations at the door will be $20.
Any proceeds after expenses go to the Association of Naval Aviation's Squadron 18 and the John Glenn Squadron of the Marine Corps Aviation Association.
Register on The Patuxent Partnership's website.
About The Patuxent Partnership
TPP fosters collaboration and the sharing of knowledge and expertise across a diverse network that includes government, industry, and academia. TPP also supports STEM education and workforce development within the local community including hosting programs of interest to NAVAIR, NAWCAD, and the broader DoD community.
To learn more about The Patuxent Partnerships and its programs, visit its Leader member page.