Capt. Porter Takes Command at PMA-272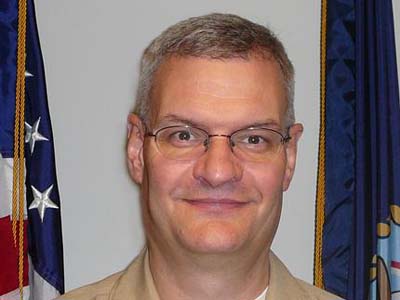 A longtime member of the Program Executive Office for Tactical Aircraft embraced a new leadership role in the organization during an assumption-of-command ceremony at Naval Air Station Patuxent River Oct. 10.
Capt. Scott Porter will now lead the Advanced Tactical Aircraft Protection Systems Program Office (PMA-272), taking the reins from Ed Chermansky, who functioned as the acting program manager. Chermansky will now resume his role as deputy program manager.
Organized under the Program Executive Office for Tactical Aircraft (PEO(T)), PMA-272 manages the development, demonstration and acquisition of operational advances in strike aircraft survivability equipment.
Prior to his current assignment, Capt. Porter was the Naval Air Systems Command liaison to the Program Executive Office for Integrated Warfare Systems (PEO(IWS)) and previously served as the chief of staff for PEO(T).
A Livermore, Calif., native, Capt. Porter is a 1989 U.S. Navy Academy graduate and holds a Bachelor of Science degree in aerospace engineering. He is a former F-14 Tomcat pilot who received his naval flight officer designation in 1991 and completed his initial flight training in the Tomcat with Fighter Squadron (VF) 124.
Capt. Porter embarked on sea duty in 1992 with a deployment aboard USS Nimitz (CVN 68) to the Arabian Gulf in support of Operation Southern Watch. He was assigned to USS John C. Stennis (CVN 74) in 1998 and served as the ship's air warfare officer and one of its tactical action officers.
A Naval Postgraduate School graduate, he began his NAVAIR career in 2000 in the F-14 Program Office (PMA-241) as the F-14 deputy class desk officer and the F-14D Integrated Product Team (IPT) lead. In 2002, he joined the Joint Strike Fighter program as the Autonomic Logistics Modeling, Simulation and Analysis IPT lead in Arlington, Va. Porter returned to NAVAIR in 2005 as the Air-to-Air Missiles Program Office (PMA-259) director of engineering (Class Desk).
While at NAVAIR, Porter worked as an E-2D Advanced Hawkeye deputy IPT lead for the Hawkeye, Advanced Hawkeye and Greyhound Program Office (PMA-231) during Milestone C transition from System Development and Demonstration phase into the Production and Deployment phase.
Source: PEO(T) Public Affairs