Art on Vacation Exhibit Ends Aug. 27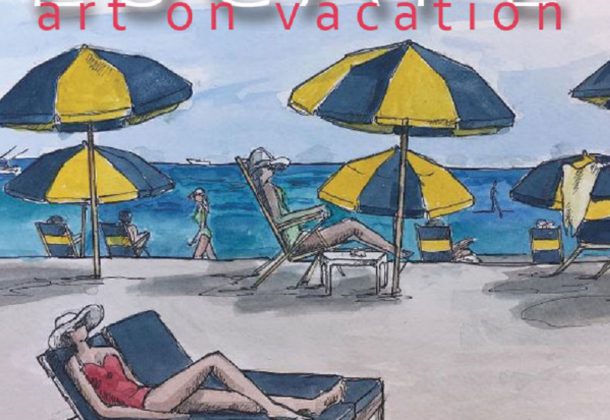 Annmarie Sculpture Garden and Art Center's Escape: Art on Vacation exhibit will continue until Aug. 27, 2017.
Contributing artists are Theresa Alo, Jennifer Kahn Barlow, Mary Blumberg, Frances Borchardt, Karen Cohen, Ruth S. Collins, Linda Craven, Jackie Cutlip-Niles, Karin Edgett, Angela Feeser, Julia Friedman Gaff, Carmen Lee Nance Gambrill, M. Alexander Gray, Melanie Guerra, Cinda Haas, Amy Hutto, Erica Jackson, Sharman Johnson, Sally Kauffman, Nikolina Kovalenko, Nancy Jeanette Long, Joanna Macaulay, Jim McKeon, Mike McSorley, John Okay, Christine Palamidessi, Win Peterman, Ann Preston, John Schaffner, Brenda Silberman, Jill Sneidman, Nicole Stewart, Erin Walker-Anderson, Carrie H. Warwick, Cin Williams, and David Zippi.
About the Art on Vacation exhibit: Taking a holiday, a long weekend, or just a little R&R can be the key to renewing your soul and refreshing your spirit. Whether an artist's retreat, or a family getaway — traveling to a new place often generates feelings of wonder, joy and inspiration. What do you create while on vacation? Do you partake in a specialized local craft or take time to polish and hone your own work? Do you document your travels in an art journal or photograph your way through a country? Where do you go to get a little R&R? Join Annmarie Garden as it vacates daily life, finds its happy place, and takes art on a holiday.
Art on Vacation exhibit juror was Marybeth Kelley, director of programs at the Smithsonian Associates.
The Murray Arts Building is open from 10 am to 5 pm each day. Admission is free for members; free for children 5 and younger; $3 for youth 6 to 17; $5 for adults 18 and older; and $4 for seniors 65 and older and members of the military.
About Annmarie Garden
An affiliate of the Smithsonian Institution, Annmarie Sculpture Garden & Arts Center is in scenic Solomons, Maryland, on the Chesapeake Bay. Annmarie Garden is just off Route 2/4, on Dowell Road.
The sculpture garden features a walking path that meanders through the forest past permanent and loaned sculpture, including more than 35 works of art on loan from the Smithsonian Institution and the National Gallery of Art. Annmarie also presents a variety of award-winning special events, rotating gallery shows, and engaging public art programs. Annmarie's Studio School offers creative classes for all ages and abilities taught by a talented faculty.
To learn more about Annmarie Garden, visit its Leader member page.