Analysis: Initial Estimate for Space Force Too High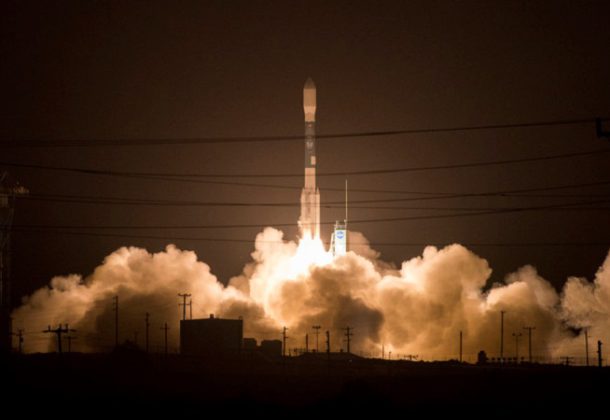 Morning Coffee is a robust blend of links to news around the internet concerning the Naval Air Station Patuxent River 

economic community. The opinions expressed here do not reflect opinions of the Leader's owners or staff.
The Space Force could cost fraction of Air Force estimates, reports Defense News. A top defense budget analyst has crunched the numbers and believes it may cost $550 million more per year for a Space Force — at most. That figure is roughly in line with Deputy DefSec Patrick Shanahan's public statements that the initial costs of a space force could be as low as $5 billion and definitely within the "single digits" of billions of dollars.
Northrop Grumman's Cygnus Spacecraft successfully completes its rendezvous and berthing with the International Space Station, reports Spaceref. Cygnus launched aboard an Antares rocket from Wallops Island, Virginia. As the spacecraft moved closer to the space station it executed a series of thruster burns to raise its orbit. Once the spacecraft was in close range, crew members on board the space station grappled the spacecraft with the station's robotic arm.
Troops sent to border could start pulling back before Christmas, reports Military.com. The 5,800 active-duty troops were deployed to the US-Mexico border to stop migrants seeking to enter the US and will continue until Dec. 15 unless directed to do otherwise. CNN reports, President Donald Trump is expected to grant new authority to the troops to protect Customs and Border Protection personnel if migrants engage in violence. The authority will extend to protection of federal property.
Trump may visit troops in Afghanistan or Iraq, reports The Washington Post. He has come under increasing scrutiny for his treatment of military affairs and failure to visit troops deployed in Iraq or Afghanistan. Trump is not expected to visit a war zone during the Thanksgiving break, which he will spend at his Mar-a-Lago golf resort in Florida.
US Air Force Chief of Staff Gen. David Goldfein said the Trump administration is pushing to strengthen alliances across Latin America to counter rising Chinese and Russian influence in the United States' backyard, reports Foreign Policy. Goldfein said Colombia and other Latin American countries risked being locked out of US and allied operations if they stopped buying military hardware from the United States and turned to other markets instead.
New video shows Russia putting its most advanced stealth fighter to the test in war-torn Syria, reports Business Insider. Fifth-generation Su-57 stealth fighters have flown 10 sorties over Syria, according to the Russian Ministry of Defense.
Rep. Gerry Connolly (D-VA) stands with President Trump and warns China from driving US from Asia, reports Washington Examiner.  Vice President Mike Pence's warnseconomic aggression and could develop into a rare point of foreign policy agreement between the Trump administration and Democrats who will control the House next year.
Combatant commanders are asking for more support in planning cyber operations, reports Fifth Domain.
One in five Army generals could not deploy in 2016 for medical reasons, reports USA Today. Overdue medical and dental exams were the primary reasons for what the Army refers to as medical readiness in 2016. The medical readiness rate for generals has improved to nearly 85 percent, according to the Army's top spokesman. Almost all generals, 97.4 percent, can now deploy after taking care of minor issues such as having updated blood tests and dental exams.
The Navy burned through more than $1.5 billion in the past decade supporting attack submarines sitting idle awaiting maintenance at overwhelmed and understaffed shipyards, a federal audit found, reports Stars and Stripes. Despite some steps taken by the Navy the past few years to mitigate shortages in maintenance facilities and workers, "attack submarine maintenance delays are getting longer and idle time is increasing," the GAO said.
The Drive has images of a Sikorsky VH-92 Marine One replacement helicopter in its full "White Top" presidential airlift colors and the helicopter landing on the South Lawn of the White House.
Weather and other environmental complexities have been blamed on the delay in opening the Niger Air Base 201, reports Air Force Times. The future hub for armed drones and other aircraft was originally intended to be operational by the end of this year, the US Africa Command says.
Contracts:
Tetra Tech-Maytag Aircraft Corp., Pasadena, California, was awarded a $10,252,498 modification (0007 03) to contract W912DY-13-G-0010 for maintenance and minor emergency repair of equipment and appurtenances. Work will be performed in Jacksonville, Florida; Fort Worth, Texas; Tallahassee, Florida; Mayport, Florida; Panama City, Florida; New Orleans, Louisiana; Parris Island, South Carolina; Pensacola, Florida; Quantico, Virginia; Albany, Georgia; Milton, Florida; Andros Island, the Bahamas; and Guantanamo, Cuba, with an estimated completion date of Dec. 15, 2019. Fiscal 2019 defense working capital funds in the amount of $10,252,498 were obligated at the time of the award. US Army Corps of Engineers, Huntsville, Alabama, is the contracting activity.
Threat Tec LLC, Hampton, Virginia, was awarded an $8,215,050 modification (P00003) to contract W9124E-18-D-0002 for training support services. Bids were solicited via the internet with seven received. Work locations and funding will be determined with each order, with an estimated completion date of Nov. 24, 2019. US Army Mission and Installation Contracting Command, Fort Polk, Louisiana, is the contracting activity.
WGL Energy Services Inc., Vienna, Virginia (SPE604-19-D-7503; $68,917,749); Direct Energy Business Marketing LLC, Iselin, New Jersey (SPE604-19-D-7500; $28,236,905); UGI Energy Services Inc., Reading, Pennsylvania (SPE604-19-D-7501, $9,110,525) and Enspire Energy LLC, Chesapeake, Virginia (SPE604-19-D-7504, $8,626,448), have been awarded a fixed‐price with economic‐price-adjustment contract under solicitation SPE604-18-R-0405 for natural gas. These were competitive acquisitions with eight offers received. These are two-year base contracts with six‐month option periods. Locations of performance are Massachusetts, New York, New Jersey, Pennsylvania, Delaware, Maryland, Washington, District of Columbia, and Virginia, with a March 31, 2021, performance completion date. Using customers are Army, National Guard, Marine Corps, Navy, Air Force, Coast Guard and federal civilian agencies. Type of appropriation is fiscal 2019 through 2021 defense working capital funds. The contracting activity is the Defense Logistics Agency Energy, Fort Belvoir, Virginia.
Iridium Satellite LLC, Tempe, Arizona, is awarded a $9,141,484 cost-plus-fixed-fee option modification to previously-awarded contract N00178-17-C-0001 to continue to support commercial satellite-based network services for the Department of Defense in the areas of satellite, ground node, user equipment/terminal software and hardware development, integration and testing. This award is a follow-on requirement to procure continued communication support services that may be implemented for use in tactical, operational and strategic-level activities. Work will be performed McLean, Virginia (50 percent); and Tempe, Arizona (50 percent), and is expected to be completed by November 2019. Fiscal 2018 research, development, test and evaluation (Navy) funding in the amount of $300,000 will be obligated at time of award and will expire at the end of the current fiscal year. This contract was not competitively awarded, in accordance with 10 US Code 2304(c)(1) – only one responsible source and no other supplies or services will satisfy agency requirements. The Naval Surface Warfare Center, Dahlgren Division, Dahlgren, Virginia, is the contracting activity.