7th Fleet Cmdr. Relieved: All Collisions During Basic Duties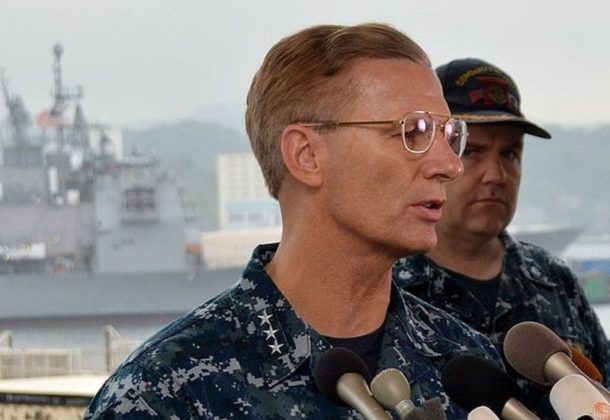 Morning Coffee is a robust blend of links to news around the Internet concerning the Naval Air Station Patuxent River

economic community. The opinions expressed here do not reflect opinions of the Leader's owners or staff.
The commander of the 7th Fleet,  VADM Joseph Aucoin was relieved "due to a loss of confidence in his ability to command," the Associated Press reports on a two-sentence statement from ADM Scott Swift, commander of the US Pacific Fleet. The action follows four collisions since January in the 7th Fleet and the deaths of more than a dozen sailors. The 7th Fleet, based in Japan, is the Navy's largest overseas fleet. These collisions happened while conducting basic duties like anchoring, navigation, surface ship contact management and carrier qualifications, says Navy Times.
The multi-national search for missing US Navy sailors expands in Asia, reports Defense News, covering more than 1,100 square miles and involving Singapore, Malaysia, and Indonesia as well as US forces. The collision occurred in waters where there is an unresolved maritime boundary dispute between Singapore and Malaysia, both lay claim to leading the search operation, which has not hindered operations. Defense News also reports that Malaysian forces have discovered additional remains at sea as the search continues. 
Three of the 10 missing sailors from the USS John McCain have been identified, Navy Times reported.
Chinese analysts of the recent 7th Fleet collisions, warn China to be alert to the potential risk to its own naval and commercial fleets, reports South China Morning News. Chinese analysts suggest the collisions could reflect a wider problem that should alter the Chinese Navy's calculations when dealing with US Navy ships in busy waters.
DefSec James Mattis will account for actual number of forces in Afghanistan before asking for more, reports Military Times, saying DoD has far more troops serving in Iraq, Syria, and Afghanistan than show in the public accounting because some forces aren't included in the official count. Officially, the Pentagon has set force management levels of 8,448 for Afghanistan, 5,262 for Iraq, and 503 for Syria. Mattis says DoD will square actual boots on the ground before deploying potentially 3,900 additional troops to carry out President Donald Trump's revised strategy for Afghanistan.
The US announced a set of secondary sanctions against 16 Chinese and Russian entities, ramping up efforts to cut off trade with North Korea and starve its military of the cash needed to develop nuclear weapons, reports South China Morning Post. The US action also expanded the scope of sanctions to include oil, left out of previous bans on humanitarian grounds. China responded by demanding Washington "immediately correct its mistake."
Chinese authorities confiscated dozens of pieces of machinery from two supermarkets owned by South Korea's retail giant Lotte Group, reports South China Morning Post. The Lotte Group has found its business subject to sudden tax and safety inspections in China since it allowed a US-backed anti-missile system to be deployed on land it owns in South Korea. The anti-missile system is in response to nuclear threats from North Korea.
A UN report released this month says two shipments from North Korea destined for the Syrian government agency responsible for chemical weapons have been intercepted in the past six months, according to The Guardian.
SecState Rex Tillerson says he is pleased North Korea has refrained from provocations and hopes it is a signal of the regime's willingness to hold talks "sometime in the near future," reports Yonhap News.
The US Air Force is preparing its secretive X-37B space plan for its fifth mission next month, reports Space.com. Most of the X-37B's payload and mission is classified but the September launch of the X-37B, known as Orbital Test Vehicle-5 (OTV-5), will be different from previous launches in that the space plane will be carried into orbit atop a SpaceX Falcon 9 rocket.
The Navy partnered with the Maryland Department of Natural Resources and St. Mary's County and contributed approximately $384,000 to a $1.8 million deal for Snow Hill Park to help protect waterfront property through its Readiness and Environmental Integration program, reports DC Military. The Sandgates property on the Patuxent River is now owned and managed by St. Mary's County. The county purchased the property with state and federal funds, then granted the Navy a sole easement which permits the Navy to limit incompatible development such as tall structures or intense residential development. The county operates the property as a season public park.
A defiant President Trump rallied with his base for more than an hour Tuesday in Arizona, reports Fox News, trashing the media over its coverage of his response to the recent violence in Charlottesville, Virginia, while criticizing the state's Republican senators for not getting behind him.
The relationship between the president and Senate Majority Leader Mitch McConnell isn't so supportive. The Seattle Times reports point that they have not spoken to each other in weeks.
Contracts:
L-3 Communications Vertex Aerospace LLC, Madison, Mississippi, is being awarded $172,984,042 for modification P00017 to exercise an option to a previously awarded firm-fixed price, indefinite-delivery, requirements contract (N00019-14-D-0011). This option provides for organizational, intermediate, and depot level maintenance, logistics, and engineering to support and maintain 201 Navy T-45 Goshawk aircraft, aircraft systems, and related support equipment to support flight and test and evaluation operations. Work will be performed at Naval Air Station Kingsville, Texas (45.7 percent); NAS Meridian, Mississippi (41.7 percent); Naval Air Station Pensacola, Florida (10.1 percent); and Naval Air Station Patuxent River, Maryland (2.5 percent), and is expected to be completed September 2018. No funds will be obligated at time of award.  Funds will be obligated on individual delivery orders as they are issued. The Naval Air Warfare Center Training Systems Division, Orlando, Florida, is the contracting activity.
CACI-ISS Inc., Chantilly, Virginia, has been awarded a $43,252,035 cost-plus-incentive-fee modification (P00024) to contract W15QKN-15-C-0049 for exercise option period 2/release 4 of increment II of the Integrated Personnel and Pay System, Army. Work will be performed in Arlington, Virginia, with an estimated completion date of Nov. 30, 2019. Fiscal 2017 research, development, test and evaluation funds in the amount of $750,000 were obligated at the time of the award. US Army Contracting Command New Jersey, Joint Base McGuire-Dix-Lakehurst, New Jersey, is the contracting activity.
Ashford Leebcor JV LLC, Williamsburg, Virginia (N40085-17-D-0357); Civil Works Contracting LLC, Wilmington, North Carolina (N40085-17-D-0358); Green-Simmons Co. Inc., Pensacola, Florida (N40085-17-D-0359); Rand Enterprises Inc., Newport News, Virginia (N40085-17-D-0360); SmartATI-KMK JV, Rochester, New Hampshire (N40085-17-D-0361); and Tikigaq Construction LLC, Wasilla, Alaska (N40085-17-D-0362), are each being awarded an indefinite-delivery/indefinite-quantity, multiple award, design-build, design-bid-build construction contract for construction projects within the Naval Facilities Engineering Command (NAVFAC) Mid-Atlantic Hampton Roads Integrated Product Team (IPT) area of responsibility (AOR).  The maximum dollar value including the base period and four option years for all five contracts combined is $95,000,000. The work to be performed provides for, but is not limited to, new construction, renovation, alteration, and repairs for general construction projects. Types of facilities include, but are not limited to warehouses, training facilities, personnel support and service facilities, housing facilities, etc. These six contractors may compete for task orders under the terms and conditions of the awarded contract. Ashford Leebcor JV LLC is being awarded task order 0001 at $594,683 for the track data coordinator trainer space renovation, Building 586 at Naval Air Station Oceana Dam Neck Annex, Virginia Beach, Virginia.  Work for this task order is expected to be completed by March 2018.  All work on this contract will be performed in the NAVFAC Mid-Atlantic Hampton Roads IPT AOR, Virginia. The term of the contract is not to exceed 60 months, with an expected completion date of August 2022. Fiscal 2017 operations and maintenance (Navy) contract funds in the amount of $619,683 are obligated on this award and will expire at the end of the current fiscal year. Future task orders will be primarily funded by operations and maintenance (Navy) funding. This contract was competitively procured via the Navy Electronic Commerce Online website, with 19 proposals received. The Naval Facilities Engineering Command, Mid-Atlantic, Norfolk, Virginia, is the contracting activity.
Camber Corp., Huntsville, Alabama, is being awarded a $14,958,266 cost-plus-fixed–fee task order under a previously awarded contract (M95494-17-F-0021) for technical and engineering support for the Chemical, Biological, Radiological, Nuclear and High-Yield Explosive Consequence Management program. This task order includes four one-year option periods, which, if exercised, could bring the cumulative value of this contract to $78,042,031. Work will be performed in Washington, District of Columbia, and work is expected to be completed Aug. 22, 2018. If all options are exercised, work will continue through Aug. 22, 2022. Fiscal 2017 operations and maintenance (Marine Corps) funds in the amount of $6,237,232 will be obligated at the time of award and will expire at the end of the current fiscal year. This contract was competitively solicited via General Services Administration One Acquisition Solution for Integrated Services, with one proposal received.  The Marine Corps Installations Command Arlington, Virginia, is the contracting activity.