300 Marines Deploy to Afghanistan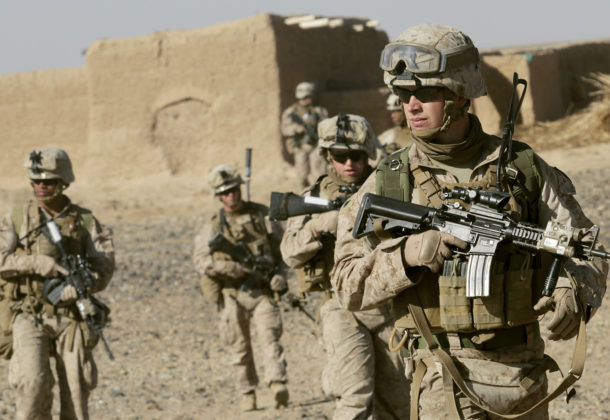 US Marine Corps photo by Cpl. Austin Long
Morning Coffee is a robust blend of links to news around the Internet concerning the Naval Air Station Patuxent River

economic community. The opinions expressed here do not reflect opinions of the Leader's owners or staff.
Marine Times reports the largest Marines deployment to Afghanistan since 2014, about 300 Marines from the II Marine Expeditionary Force at Camp Lejeune, North Carolina.
The Air Force scrambled two F-22 stealth fighter jets and an E-3 airborne early warning plane to intercept the Russian bombers flying near Alaska, Fox News reports. The American jets flew alongside the Russian bombers for 12 minutes, before the Russian bombers reversed course and headed back to their base in eastern Russia.
President Donald Trump's new "Buy American" executive order could impact the defense industry's supply chain, reports Defense News. For example, the JSF is designed specifically to have industrial participation from Australia, Canada, Denmark, Italy, the Netherlands, Norway, Turkey, and the United Kingdom, putting an inherently international supply chain at the heart of the Pentagon's largest acquisition program.
Navy officials in Pearl Harbor and Washington declined to comment on the Carl Vinson's movements, other than to confirm the April 15 movement through the Sunda Strai. Defense News reports off the record several officials expressed wonderment at the persistent reports that the Vinson was already nearing Korea. "We've made no such statement," said one official. Military.com reports the carrier's strike group will remain deployed forward 30 days longer than planned, "to provide a persistent presence in the waters off the Korean peninsula," RADM Jim Kilby said.
Trump says he hasn't softened his position on China, but argues that it makes no sense to fight China's currency manipulation at a time when the country is trying to help the US rein in North Korea, reports the Washington Examiner.
A congressional proposal to again make service members buy-in to access future GI Bill benefits is getting mixed reviews, reports Military Times. Unlike the older Montgomery GI Bill benefit, the post-9/11 GI Bill does not require any fees or pay reductions for eligibility. The new proposal would change that, taking up to $100 a month from new enlistees' paychecks for the right to access the benefit after they leave the ranks.
The Army has identified the victims in the fatal military helicopter crash in Leonardtown on Monday, WTOP reports. Spec. Jeremy Darrell Tomlin, 22, a UH-60 crew chief assigned to the 12th Aviation Battalion originally from Chapel Hill, Tennessee, died at the scene. The injured were Chief Warrant Officer Christopher Nicholas and Capt. Terikazu Onoda.
Marine Corps AV-8B Harrier pilots want to rehearse, like professional athletes who use visualization techniques and technology to game plan, reports C4ISR, but not on tablets or phones, but on full cockpit simulators capable of deploying aboard an L-class ship or to a forward-operating location.
There are almost as many marijuana users as there are cigarette smokers in the US, reports The Washington Post, many users hide their stash in their closets and most users are parents. These facts and many more are among the conclusions of new survey from Yahoo News and Marist University, which illustrates how pot has become a part of everyday life for millions of Americans.
Contracts:
Booz Allen Hamilton, McLean, Virginia (W91QF4-17-D-0001); Cubic Global Defense, San Diego, California (W91QF4-17-D-0002); General Dynamics Information Technology, Fairfax, Virginia (W91QF4-17-D-0003); Logistics and Technology Services, Huntsville, Alabama (W91QF4-17-D-0004); Beshenich Muir and Associates, Leavenworth, Kansas (W91QF4-17-D-0005); nFocus Solutions (SWMG), Phoenix, Arizona (W91QF4-17-D-0006 ); Training Technologies and Support, Leavenworth, Kansas (W91QF4-17-D-0007); Trideum, Huntsville, Alabama (W91QF4-17-D-0008); Yorktown Systems Group, Huntsville, Alabama (W91QF4-17-D-0009); and Leidos, Reston, Virginia (W91QF4-17-D-0011), will share in a $231,000,000 firm-fixed-price contract for non-personal services in support of the Army Combined Arms Center to help it accomplish its mission to develop and produce training and education strategies; scientific human subject studies; doctrine; concepts; instruction; and products for the current and future force. Bids were solicited via the Internet with 26 received. Work locations and funding will be determined with each order, with an estimated completion date of April 19, 2022. US Army Contracting Command, Fort Eustis, Virginia, is the contracting activity.
Aixxia LLC, McLean, Virginia, was awarded a $13,438,237 firm-fixed-price, other transaction agreement for development of an organic innovation platform. This agreement provides for developing an online environment for scientists, engineers, and end users to explore new scientific ideas and concepts and then connect qualified researchers to interested research sponsors. Work will be performed in McLean, Virginia (45 percent); Los Angeles, California (9 percent); Baltimore, Maryland (38 percent); and South Salem, New York (8 percent), with an expected completion date of April 2021. Fiscal 2016 research and development (R&D) funds in the amount of $500,000; and fiscal 2017 R&D funds in the amount of $1,806,043 are being obligated at time of award. This competitive award received two offers. The Defense Advanced Research Projects Agency, Arlington, Virginia, is the contracting activity (HR0011-17-9-0013).