Chamber's New Award to Lex Park's Robin Finnacom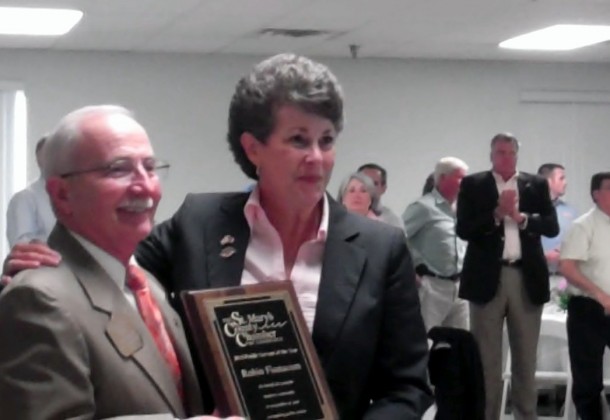 Posted by
Lexington Park Business & Community Association
Bay Leader &
TSA, Inc.
, Leading Edge &
Amelex,
Pax Leader LPBCA sponsored by:
 [adrotate group="13″]
Robin Finnacom received last week the first Public Servant award created by St. Mary's Chamber of Commerce.
Ms. Finnacom, the CEO of the St. Mary's County Community Development Corporation, is credited with keeping revitalization efforts in Lexington Park Maryland on track and moving forward. She was praised for her tireless efforts on behalf of the community. The Chamber also emphasized Ms. Finnacom's continued efforts to keep the business community informed on government projects that impact this central business area of the Southern Maryland region.
Surprising Tom Jarboe, COO of TSA, Inc. and the head of the Businessperson of the Year awards committee, he himself was named the recipient and through a committee-wide code of secrecy did not know he'd been selected until the Chamber's 2013 annual dinner. Mr. Jarboe completes the Chamber's first father-son recipient. His father, Dr. J. Patrick Jarboe received the award in 1995.
Also, stepping up for her term as Chamber presidency was Kim Oliver of Amelex.
[youtube=http://www.youtube.com/watch?v=oH7JwB2D1oM]