Young Professionals Meet Up for Meteor Shower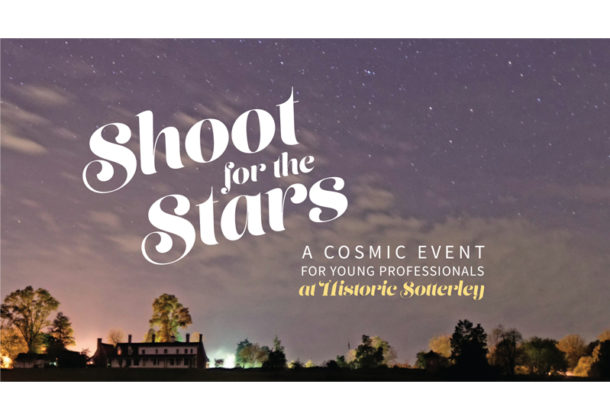 A group of young professionals will be getting together on Saturday, Aug. 11, 2018, to get a great view of the Perseid Meteor Shower, hosted by The Patuxent Partnership.
The Shoot for the Stars Cosmic Event for Young Professionals will be held from 7:30 to 10:30 pm at Historic Sotterley Plantation. Participants will be able to experience the history of Sotterley while exploring the mystery of the cosmos! Everyone will be able to meet and catch up with other young professionals in Southern Maryland while enjoying peak viewing of the annual Perseid meteor shower.
The Patuxent Partnership will be offering food and drink, awesome door prizes, and access to a very special tour of the Sotterley mansion "Under the Cover of Darkness."
Dress is casual, so just come as you are. There is no cost to attend the event, but everyone is asked to register in advance through Eventbrite.
See the event page on Facebook to get more information and updates on the planned event.
Save the Date
Dr. Dan Crippen and retired VADM Joseph Dyer will speak at an event at St. Mary's College of Maryland from 6 to 8 pm Thursday, September 6, 2018.
The Patuxent Partnership and Center for Study of Democracy at St. Mary's College of Maryland are pleased to present Crippen, who is on the board of directors of the Committee for a Responsible Federal Government; on the board of trustees of the Center for Health Care Strategies; former executive director of the National Governors Association (2011-2015); and former director of the Congressional Budget Office (1999 – 2003); and VADM Dyer, commissioner on Section 809 Panel; former chief strategy officer, chief operation officer and president at iRobot Corp.; and former commander of the Naval Air Systems Command.
The Patuxent Partnership will also receive the St. Mary's College of Maryland Trailblazer Award during the program.
Advanced registration is requested to manage seating. There is no cost for this program.
About The Patuxent Partnership
TPP fosters collaboration and the sharing of knowledge and expertise across a diverse network that includes government, industry, and academia. TPP also supports STEM education and workforce development within the local community including hosting programs of interest to NAVAIR, NAWCAD, and the broader DoD community.
To learn more about The Patuxent Partnership and its programs, visit its Leader member page.