Young Professionals Meet Up for Meteor Shower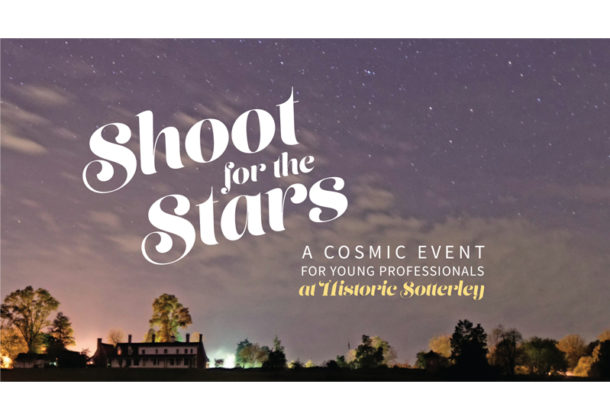 A group of young professionals will be getting together on Saturday, Nov. 17, 2018, to get a great view of the Leonid Meteor Shower, hosted by The Patuxent Partnership.
The Shoot for the Stars Cosmic Event for Young Professionals will be held from 7:30 to 10:30 pm at Historic Sotterley Plantation. Participants will be able to experience the history of Sotterley while exploring the mystery of the cosmos! Everyone will be able to meet and catch up with other young professionals in Southern Maryland while enjoying peak viewing of the annual Leonid meteor shower.
The Patuxent Partnership will be offering fall-inspired food and drink, a warm bonfire, stellar door prizes, and access to a very special tour of the Sotterley mansion "Under the Cover of Darkness."
Dress is casual, so just come as you are. There is no cost to attend the event, but everyone is asked to register in advance through Eventbrite.
See the event page on Facebook to get more information and updates on the planned event.
Call for Workshop Proposals for STEM-ING
The Naval Air Warfare Center Aircraft Division and The Patuxent Partnership will host the Science, Technology, Engineering, and Mathematics – Inspiring the Next Generation event April 27 on the St. Mary's College of Maryland campus in St. Mary's City. The one-day STEM-ING event is designed for middle school girls in the tri-county region to gain exposure to the STEM fields and associated careers.
Throughout the day, 150 young ladies will hear from positive role models in the STEM industry and academia and will have an opportunity to select from up to 15 fun, interactive, and challenging STEM-related workshops.
On behalf of STEM-ING, TPP is soliciting STEM workshop ideas to support this great event. Workshops, each 50 minutes in duration, should be fun, interactive, and educational. They should also help middle school girls to learn about a particular STEM topic.
If you have any workshop-specific questions or would like to submit a workshop proposal, contact Laura Ross at laura.e.ross@navy.mil or 301-757-8986 or Kristen Finnegan at Kristen.finnegan@navy.mil or 301-342-3071. Workshop proposals should be submitted no later than 5 pm Friday, Dec. 7.
About The Patuxent Partnership
TPP fosters collaboration and the sharing of knowledge and expertise across a diverse network that includes government, industry, and academia. TPP also supports STEM education and workforce development within the local community including hosting programs of interest to NAVAIR, NAWCAD, and the broader DoD community.
To learn more about The Patuxent Partnership and its programs, visit its Leader member page.