Who Will Take Hagel's Job?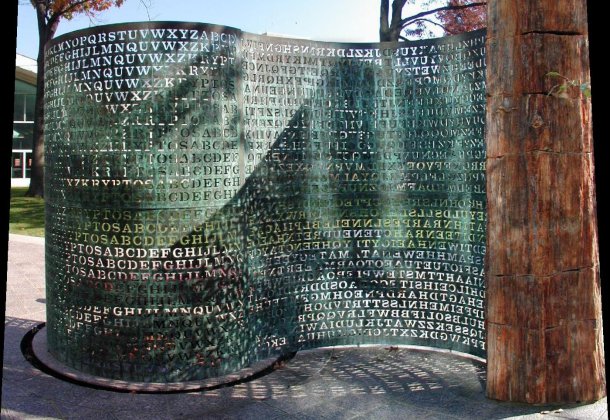 KRYPTOS sculpture by Jim Sanborn for the CIA at Langley, VA
Morning Coffee is a robust blend of links to news around the internet concerning the Naval Air Station Patuxent River economic community. The opinions expressed here do not necessarily reflect those of the Leader's owners or staff.

Seems no one wants DefSec Chuck Hagel's job. Politico reports, Michèle Flournoy, the former undersecretary of Defense for policy who now runs the Center for a New American Security, said she wasn't interested as did Sen. Jack Reed (D-R.I.). That keeps Deputy Defense Secretary Bob Work and his predecessor, Ash Carter in the running.
Michigan State Police is the latest agency to push the FAA for drone approval, reports the Lansing State Journal. The police already have a remote controlled helicopter and hope to gain FAA approval to put it to use before the end of the year. Meanwhile the autonomous K-Max helicopter is preparing to extinguish forest fires. Made by Kaman the K-Max was equipped for firefighting by Lockheed Martin, reports BT.com. CNBC has the Lockheed video. On the west coast, the FAA is advancing a number of Sense and Avoid systems for unmanned aerial vehicles in non-segregated civilian airspace, reports UPI.
The Brits ordered their first four of 14 F-35Bs from Lockheed this week, to operate from Royal Air Force stations and Royal Navy aircraft carriers. UK aviators were recently at NAS:Pax River for trials of the jet fighter, reports GovCon Wired.
A third official fired and two retired before they could be fired, GovExec reports on housecleaning going on at the Veterans Affairs Department in the wake of scandals at facilities across the country.
The Naval Aviation Training Systems Program Office will present the "Live, Virtual, Constructive" training at this year's Interservice/Industry Training Simulation and Education Conference, Dec. 1-5 in Orlando, FL. The LVC integrates "live" flying aircraft; "virtual" videogames run by human operators; and "constructive" simulation with computer-generated actors programmed to operate autonomously, reports NAVAIR News.
Persistent, long-term, global surveillance is coming to your solar system soon, reports Defense Tech on  Under Secretary of Defense for Intelligence Michael Vickers speaking at a Washington DC defense conference. The technology's leap forward comes from the ability to stare at targets for a long period of time.
KRYPTOS receives another clue from American artist Jim Sanborn, reports Wired, and also provides a brief history of the artist and a rather thorough history of the CIA's struggle to solve the fourth puzzle of the sculpture at Langley.